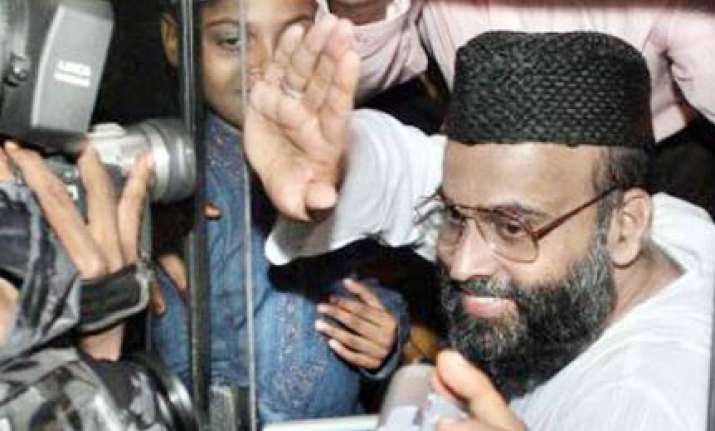 Thiruvananthapuram: Kerala-based PDP leader Abdul Nasser Madani finds himself in political isolation with mainstream parties in the state keeping away from him, despite past dalliance with him, after he was chargesheeted in the Bangalore blasts case.
Madani's space in the mainstream has shrunck considerably after the last Lok Sabha polls when his party had truck with the ruling LDF which however failed to yield any political dividends at the hustings.
Madani was arrested yesterday in connection with the Bangalore blasts after eight days of suspense with the BJP Government in Karnataka blaming the LDF Ministry for the delay in executing the arrest warrant.
CPI-M had a sort of an adjustment with PDP by supporting an independent acceptable to both in the Muslim-dominated Ponnani seat in the last Parliament polls, but virtually maintained a distance from him after the elections.
Congress-led UDF, which had also had some understanding with the PDP in its early days, has taken a strident anti-Madani posture since the run up to the Lok Sabha polls.
It was when he was already finding himself in a politically isolated state that he was arraigned as an accused in the additional chargesheet in 2008 Bangalore bomb blasts case, reportedly based on the statement given to police by T Nazeer, an LeT supect and a key accused in the case.
This situation, according to political analysts here, has pushed Madani into isolation, giving rise to doubts about the strength of his support base with the Assembly polls just eight months away.
Madani had made a triumphant return to the state following his acquittal in the Coimbatore blasts case in August 2007 after nine years of incarceration. A hero s welcome was accorded to him then with several LDF ministers turning up at a massive public reception held here.
Out of prison, Madani himself declared his intention was to be part of mainstream politics and regretted his past radical positions.
It was with this  reformed  Madani that the CPI-M forged an alliance and the powerful party boss in the state Pinarayi Vijayan shared the stage with him despite strong reservations of his arch rival and Chief Minister V S Achuthanandan.
The 86-year-old Marxist has persistently declined to do any business with Madani or leaders of any other radical group since he is firm that communalism of both minority and majority hues are equally dangerous.
According to analysts, the public perception on terrorism has made it difficult for outfits like PDP or Popular Front of India, a radical Muslim outfit, to build a credible support base in the state.
Madani, now in his mid-40s, burst on the public scene in Kerala in early 1990s as a fiery orator under the banner of Islamic Sevak Sangh (ISS), started by him to rival RSS.
The young Muslim cleric in Kerala could then attract a sizeable following, especially in the southern parts where a mainstream party like Indian Union Muslim League could Tnot strike roots.
In the turbulent days that followed the demolition of Babri Masjid, ISS was outlawed and Madani floated the Peoples Democratic Party (PDP) in 1994, positioning itself as a political force of the minorities, depressed classes and marginalised sections, shedding the tag of a  Muslim outfit.
In the subsequent years, he had been able to build a support base throughout the state and had some understanding with the UDF, though no one was still ready to break bread with him in the open.
His downfall began when he was arrested in March 1998 in connection with a case of making an inflammatory speech in Kozhikode. It was while in custody in this case, he was sought by Tamil Nadu police in connection with the Coimbatore blasts case, resulting in detention till his acquittal in 2007.
He was accused of supplying explosives for the Coimbatore blasts that claimed 58 lives and injured over 200 people ahead of an election meeting addressed by senior BJP leader L K Advani. But the trial court exonerated him of the charges.
But charges of terror links continued to haunt Madani and his wife Soofiya, who was arrested in December 2009 in connection with the torching of a Tamil Nadu transport corporation bus in 2007 to protest the continued detention of the PDP supremo in Coimbatore prison.
Reported confessions of LeT suspect Nazir, prime accused in the Bangalore blasts that killed one person and injured 20 others, spelt trouble for Madani again, leading to him being chargesheeted in the case and arrest.
Madani has repeatedly maintained that he has been falsely implicated in the case and alleged a deep rooted conspiracy by security agencies. PTI