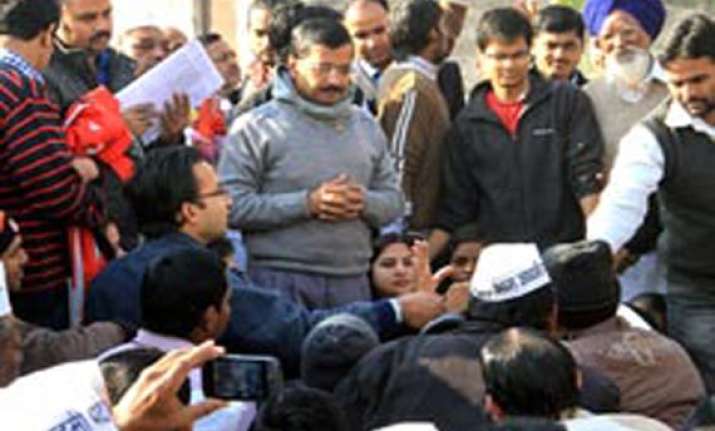 New Delhi: Delhi chief minister Arvind Kejriwal's first Janata Durbar outside the Delhi secretariat ended in chaos, after thousands of grievance redressal seekers converged, making it difficult for the officials and security personnel to manage the show.
Within an hour, Kejriwal had to leave the venue as he feared a stampede would take place.
Kejriwal had a hurried meeting with top officials inside the secretariat, and he appeared on the terrace of the building to announce over a mike that another Janata durbar would be held within four days.
Kejriwal offered apology saying he never imagined thousands of people would come to air their grievances.
Nearly two to three companies of Seema Sashastra Bal and Delhi policemen from six police stations have been deployed outside the Delhi Secretariat today, where Chief Minister Arvind Kejriwal and all his six ministers are holding their first Janata Durbar.
Fifty-seven plainclothes personnel from Delhi Police security branch, that looks after VIP security, have also been deployed to put a cordon around Kejriwal and his ministers.
Here is the live reporting of the Janata Durbar:
8:45 am: Kejriwal has said the Janata durbar will start at 9:30 am and end at around 11 am.
8:30 am: Delhi policemen and SSB personnel take positions outside Delhi Secretariat.
9:35 am: There are reports that Kejriwal has asked the parents of the infant who died in Chanan Devi Hospital to come to the durbar. The hospital medical superintendent has also been summoned.
9:30 am: Janata Durbar begins, as people line up.
10:07am:Police finding it difficult to control crowd. People have broken first barricade and entered the help desk area.
10:35am: Arvind Kejriwal leaves from Janta Darbar.
10:45am There are AAP volunteers at the Janata Darbar listening to people who are not hopeful of getting a chance to make it to any of the desks. These volunteers are assuring them that their issues will reach CM Arvind Kejriwal.
11:00am: People are being asked to write down their issues and submit them. They're being told they'll get an SMS today or by Monday about their application.
11:07am: I had to leave because there were fears of a stampede says Arvind Kejriwal.
11:10am: Arvind Kejriwal promises better arrangements for future Janata Durbars.
11:40am Kejriwal apologises to people for mismanagement at Janata Darbar.
11:50 am: Kejriwal comes back and interact with the people from the roof of Central Secretariat, assures another Janta Darbar will be organized with in next 4 days.