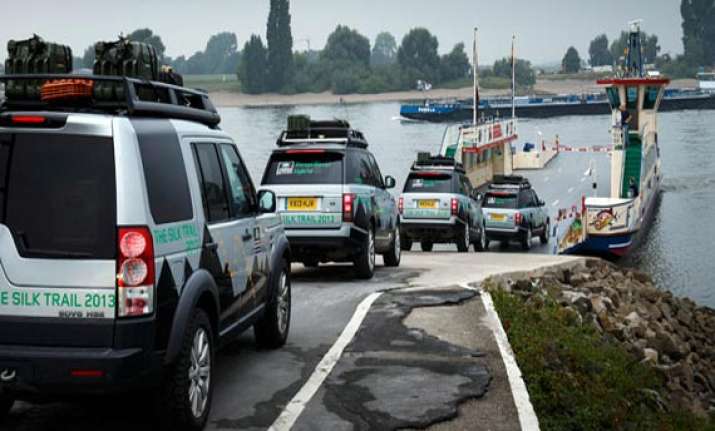 Mumbai:  Tata Motors has announced the conclusion of this year's Land Rover Experience Expedition with the arrival here of an 18-vehicle convoy—which covered a distance of 16,853 km in 53 days on Friday afternoon. 
Called 'The Silk Trail 2013', the annual expedition organised by the Land Rover traced the ancient Silk Route this year, as the company wanted to put the home country of its parent Tata Motors (which bought the marquee British car brand in 2008) on the itinerary.
The expedition had started simultaneously from Berlin in Germany and the Land Rover headquarters in Solihull in UK.  The convoy of 11 Land Rover Evoques and 7 Land Rover Hybrid (of which three were prototypes on test-drive) passed through Europe, Eurasia, Russia, half of the ex-Soviet republics, China and Tibet before entering India through Nepal.
The terrains en route ranged from European plains to the blazing Uzbekistan deserts to the icy mountains of Kyrgyzstan and the mighty Himalayas.
While the German team had 11 Evoques, the English team were on 3 LR Hybrid Prototypes and 4 LRs. Team members came from 11 countries, said Land Rover global PR director Gabi Whitfield, who joined the expedition in Jaipur-Mumbai leg.  
While the new Evoques will be launched in Germany next month, the LR Hybrids will be launched early next year.  The team included Dag Rogge, leader of the German team and the head of Land Rover Experience Tour in Germany;  Hans Hermann Ruthe, the head of the Solihull team; and Jessica Schwarz, a leading actress and the LR brand ambassador in Germany who joined the expedition in Delhi.  R
ogge and Ruthe said that they drove through varied temperatures—from minus 10 to plus 46 degrees Celsius. At one point, they drove at the altitude of 5,379 meters or 17,648 ft.