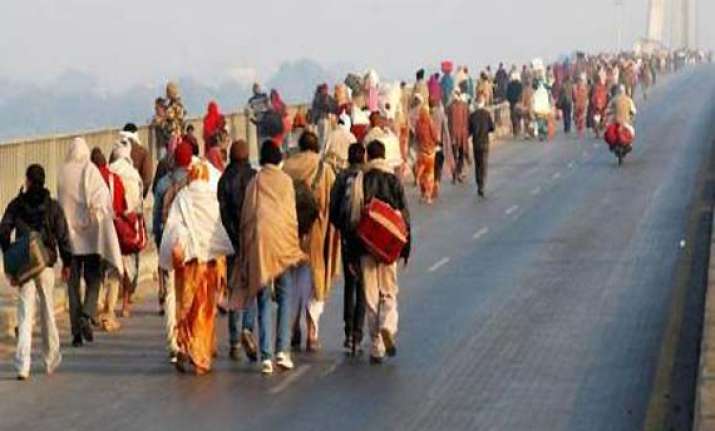 Allahabad, Feb 20: Pilgrims at the ongoing Maha Kumbh mela here faced a tough time today due to the nationwide strike called by central trade unions which has brought movement of Uttar Pradesh roadways buses to a standstill. 
Despite charging exorbitant rates, private buses were seen overcrowded with pilgrims while taxis ferried stranded passengers.
There were also longer-than-usual queues at the railway stations' ticket counters as people looked for alternative modes of transport on account of the non-availability of state roadways buses.
Half-a-dozen bus terminuses, which have been witnessing movement of thousands of vehicles every day during the Kumbh, wore a deserted look with security personnel deployed in strength to tackle any flare-up between desperate passengers and resolute roadways employees who have extended their "full support" to the nation-wide strike.
Pilgrims could be seen standing for hours or trudging several miles, with their belongings in search of a private bus or taxi which charged exorbitant rates, seizing the opportunity offered by the strike.
Work remained paralysed at banks, post offices and the Nagar Nigam as well where employees gathered to hold demonstrations.
Though, power supply was not affected due to the strike but it caused anxiety among residents of several localities where there have been break-downs as power corporation employees were reluctant to fix any technical snag until the strike was over.
No untoward incident has been, however, reported from any part of the city so far.