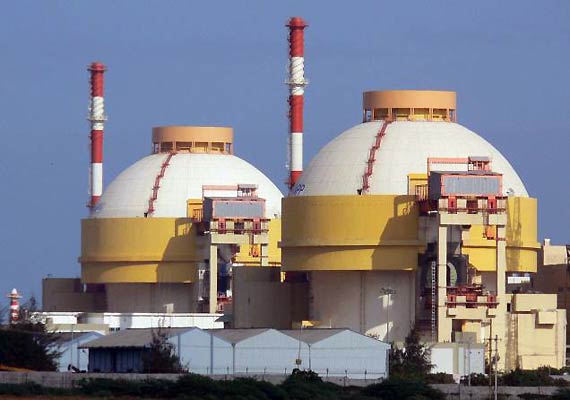 Chennai, Nov 10: Bogged down by the over month-long agitation by local people led by anti-nuclear activists, commissioning of the first reactor of the controversial Koodankulam Nuclear Power Project has been delayed by three months.

After achieving 99.2 per cent of the physical progress to produce 1000 MW of power, the first unit was now expected to go for commercial operation by March next year, the Nuclear Power Corporation of India Limited said on its official website.

Earlier, it was expected to go on stream by December this year, but the agitation and the resultant stand-off between them and the government has upset the schedule of the Indo-Russian joint venture.

Minister of State in the Prime Minister's Office, V Narayanasamy, told reporters here that work on the first reactor was over, but its commissioning had been delayed by "some months" following the agitation.

"Construction work at the plant has been stopped... but since maintenance work is important, our scientists and engineers are taking up the work. We have told the Chief Minister (Jayalalithaa) that maintenance work should be done and she has also accepted it," he said.

He said the Centre had accepted the Tamil Nadu Cabinet resolution and stopped the construction work besides setting up an experts committee to allay the fears of locals on safety aspects.

Narayanasamy, who was deputed by Prime Minister Manmohan Singh at the height of the agitation in September to pacify anti-nuclear protesters, said there had been a marked change in the attitude of the people of the state, especially from Koodankulam and they were now supporting the plant.

"Nothing is going on. Only essential crew are looking after surveillance and status of the system. They are keeping an eye on equipment since all of them are costly and electrically charged," KNPP Station Director R S Sundar said. 

Meanwhile, dismissing reports that they would have no problem in allowing work to resume at the plant if Chief Minister Jayalalithaa accepted such a step, S P Udayakumar, convener of the People's Movement Against Nuclear Energy, said there was no change in their demand for scrapping the project. 

In a move to allay fears of the locals, the Centre had set up a 15-member independent expert panel, which met the six-member committee constituted by the state government on November 7, and discussed ways and means to end the stalemate. 

The Centre also roped in former President A P J Abdul Kalam, a strong advocate of nuclear energy, who visited the site last Sunday and gave a clean chit on the project's safety aspects.

Kalam, who had suggested a Rs 200-crore 10-point action plan for development of the area around Koodankulam, said people should not have even a "nano-sized doubt" over the safety of the project.