Follow us on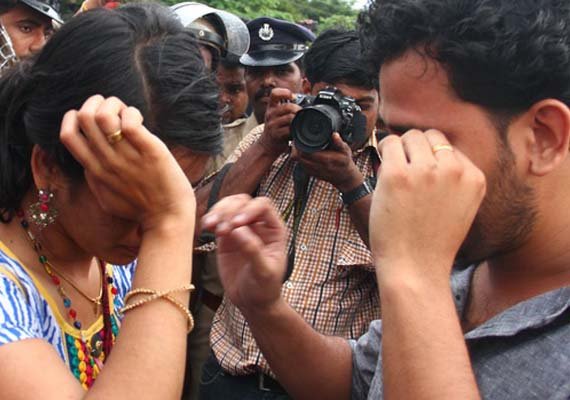 Kozhikode: The 'Kiss of Love' protest against moral policing today was marred by sporadic violence in parts of the city with those for and against it coming to blows creating a tense situation, following which police chased them away with lathis and took few of them into custody.
About 20-odd 'Kiss of Love' activists, first converged at the mofussil bus-stand here by about 3 PM where about 100 spectators and workers of 'Hanuman sena', had gathered.
When the activists started kissing, the spectators rushed towards them. Police tried to chase them away and took into custody the protesters and workers of the 'Hanuman Sena'.
Television footage showed protesters being dragged by police.
Kozhikode City Police commissioner, A V George confirmed that some activists of the 'Kiss of Love' and 'Hanuman Sena' have been taken into custody.
"They were taken into custody as a precautionary measure and will be let off without registering any case,", he later told reporters.
Unlike in Kochi, the organisers of the 'Kiss of Love' protest had decided to hold the agitation in different streets in Kozhikode, naming the protest as 'Kiss in the Street'.
At the famed Sweat Meat street called 'Mithai Theruva', famous for 'Kozhikode Halwas', activists allegedly belonging to Shiv Sena, attacked documentary film maker Didi Damodaran and her husband after they kissed each other, expressing solidarity with the 'Kiss of Love' protest.
Poet and filmmaker Jayan K Cherian, who was also taken into custody by police, said he had not come to participate in the protest.
"A middle-aged couple were standing there holding hands and were taken into custody. I was explaining this to a TV channel when I was also taken into custody," Cherian said.
Describing the police action as 'shameful', he said the 'Kiss of Love' activists should have been given space to protest. They were arrested immediately after they reached the bus-stand and this was against democratic procedures, he said.
"These people were only exercising their right and they were forcibly taken into custody by police," he told a television channel.  
The 'Kiss of Love' protest had failed to take off at Kochi on November 2 after police took into custody the activists before they reached the venue at Marine Drive.
A Facebook collective of "Free Thinkers" led by Rahul Pasupalan, an IT professional and short filmmaker had been arrested and removed by police when they tried to stage the kiss protest at Kochi.
However, there was an outpouring of solidarity for the cause, represented by the collective and similar protests held in various places outside Kerala, including college campuses.
Rahul had said there were plans to hold similar protests in two or three places in Kozhikode.
Those who participated in the protest at Kozhikode included a theatre group of Transgenders from Chennai.
The Group of Facebook users had called for the programme to protest the vandalism by Bharatiya Janata Yuva Morcha volunteers at a hotel in Kozhikode in October this year, alleging that immoral activities were going on there.