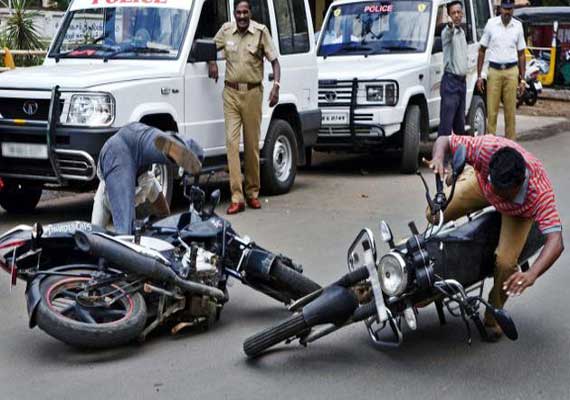 Thiruvananthapuram: Authorities in Kerala will get tough to curb rising fatal road accidents in the state, Transport Minister T. Radhakrishnan said Tuesday.
Addressing the assembly, Radhakrishnan said there was no need to bring in a new set of laws for this purpose.
"From now on, the authorities will be acting tough as precious lives are being lost and numerous people are getting injured in road accidents," he said.
"Licenses of those caught driving under the influence of alcohol ... can be cancelled through an executive order," he said.
The minister spoke after CPI-M legislator E.P. Jayarajan pointed out that 4,258 people were killed and 40,344 injured in road accidents in Kerala in the 2013-14 fiscal.
"The major causes of the accidents include driving under the influence of alcohol, rash driving and poor condition of roads," Jayarajan said.
He quoted a professional body as stating that roads in the state were poorly planned and there was hardly any space for parking. Pedestrians too were affected.
Radhakrishnan said the total number of registered vehicles in Kerala had crossed 8.2 million, of which 65 percent were two-wheelers.
"The growth of vehicles is mind-boggling... We will leave nothing to chance and act tough against erring drivers. And that's one of the ways to bring down the accident rate," he said.
Unhappy with the reply, the opposition members walked out of the house.