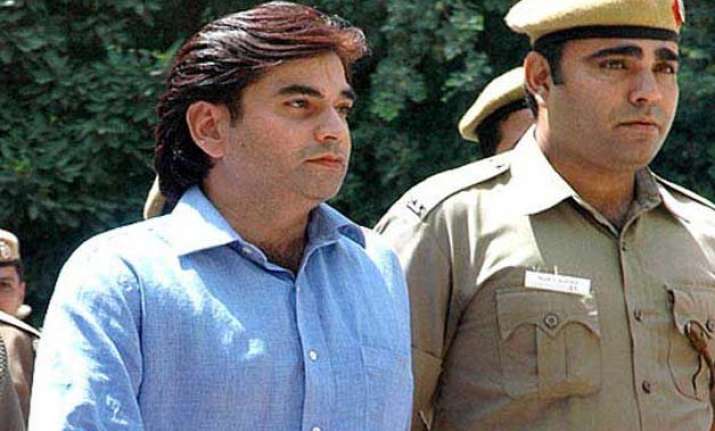 New Delhi: Delhi High Court today asked the city government to verify the south Delhi farm house address furnished by Vikas Yadav, serving a 30-year jail term in Nitish Katara murder case, for seeking a three-month parole to stay with his family and appealing the verdict of his conviction and sentence.
"Delhi government will verify Vasant Kunj farm house residence and file its report on next date of hearing. Put up for further arguments on March 27," Justice A K Pathak said.
Yadav was sentenced to 30-year jail term without remission along with his cousin Vishal Yadav, son of controversial UP politician D P Yadav, for kidnapping and murdering business executive Nitish Katara.
The court made it clear that if parole was granted, Vikas Yadav would not be allowed to move outside Delhi.
He has sought parole to complete formalities for filing an appeal in the Supreme Court against his conviction and sentence.
Further, his counsel said the convict has been in jail for 13 years and he needed opportunity to revive and establish social connections for which he would like to meet his ailing grandfather.
The High Court on February 6 had enhanced the sentence for Vikas and his cousin Vishal from life imprisonment to 25 years without remission for the murder of Nitish Katara and five more years for destruction of evidence in the case.
Yadavs' acquaintance Sukhdev Yadav alias Pehelwan was also awarded an enhanced life sentence of 20 years without remission by the High Court.
The three were awarded life term by a trial court for abducting and killing Katara, a business executive and son of an IAS officer, on the intervening night of February 16-17, 2002 as they did not approve of the victim's affair with D P Yadav's daughter Bharti.
The High Court had on April 2, 2014 upheld the verdict of the lower court in the case, describing the offence as "honour killing" stemming from a "deeply-entrenched belief" in caste system.