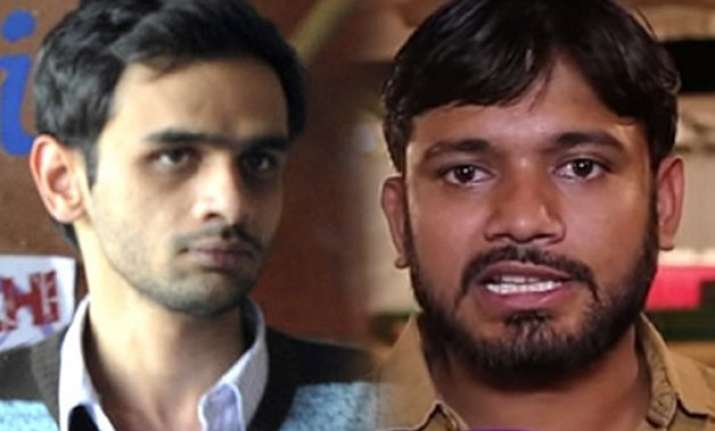 New Delhi: The Delhi government panel probing the JNU incident where anti-India slogans were allegedly raised has given a clean chit to JNUSU president Kanhaiya Kumar and Umar Khalid, saying there was no direct link to establish that the two students did indulge in anti-India sloganeering.
However, the report compiled by the District Magistrate Sanjay Kumar indicts Anirban Bhattacharya and Ashutosh Kumar, two other students accused in the case, and a few outsiders of Kashmiri descent for raising pro-Afzal Guru and anti-India slogans at the campus.
   
"No witness or any other evidence found which could suggest that Kanhaiya had delivered any anti-national speech," an official privy to the report compiled by the District Magistrate said, adding that anti-India slogans were indeed raised in the campus.
"There is no doubt about it," he said.
As per the official, a total of seven videos were sent to Hyderabad-based Truth Labs for forensic testing of which three were found to be doctored. "In those doctored versions, video has been edited and voices added," the official said.
The report found many outsiders of Kashmiri descent, most of them having their faces covered, were seen shouting pro-Afzal and anti-India slogans in videos.
"After going through the footage provided by the JNU, it became clear that Umar raised slogans but not anti-India. Umar, the main organiser of the event, raised slogans like 'Kashmir ki janta sangharsh karo, hum tumahare saath hai', but didn't support slogans calling to divide the country," he said.
Umar has been known for his views on Kashmir's self-determination and Afzal. He had in the past organised many such programmes.
When Kumar was asked, he refused to divulge the details saying, "I have submitted the report to the Delhi government late last (Wednesday) night."
The state government had ordered a magisterial probe into the matter on February 13.
On February 9, a cultural event was organised at JNU to commemorate the hanging of Parliament attack convict Afzal Guru. During the event, anti-India slogans were allegedly raised, following which Kanhaiya Kumar was arrested by Delhi Police on February 12.
Kanhaiya Kumar was granted interim bail for six months by Delhi High Court on Wednesday. He is likely to walk out of Tihar jail today.