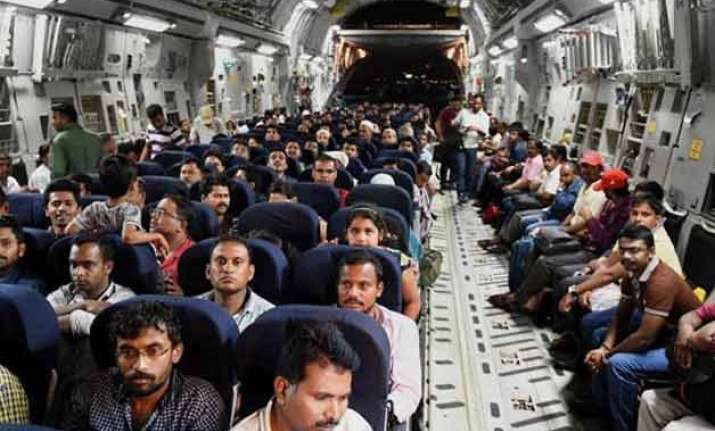 New Delhi: Amid war-like conditions in Yemen's Aden, the Navy on Saturday pressed into action INS Mumbai, a guided-missile destroyer, to evacuate the second batch of Indians from the port city.
The warship placed itself just outside Aden harbour as part of "Operation Raahat" as heavy firing was reported in Aden where the Saudi-led coalition is fighting Houthi rebels who are making a bid for the city.
Indian authorities have hired small crafts which are being used to move 30-35 Indians at one time from the port to INS Mumbai, the Navy said. The warship could not dock at the city port due to heavy shelling.
While the exact number of Indians stranded there is not known, defence sources put it over 200.
"Absolute tough environment at Aden ... Evacuation of stranded Indians being carried out in almost war-like conditions by Indian naval ship Mumbai," the Navy said.
So far, 1,350 Indians have been evacuated from Yemen and efforts are on to rescue over 2,000 others from various parts of the strife-torn country where situation has deteriorated significantly due to escalation in fighting between warring groups.
Minister of state for external affairs VK Singh, who was overseeing the massive evacuation operation from Djibouti, had also gone to Sanaa, the largest Yemeni city from where Air India was rescuing Indians after getting permission to land. Singh has come back to Djibouti on Saturday.
Sources said though security situation was becoming more precarious in Sanaa due to increasing hold of al-Qaida terrorists, India has been given slots to carry out air sorties to take out its citizens from the city.
"Maximum slots to carry out air sorties have been given to India. We were given two slots yesterday and two slots today. We hope to continue the evacuation from Saana."
They sought to allay fears of kidnapping of Indians in Yemen, asserting that the situation was not like that in Iraq.
The sources said Indian Navy ship Tarkash and two other commercial ships are also available for evacuation of Indians from port cities including from Al-Hudaydah.
They said India had rescued two Nepalese and three nationals each of Bangladeshi and Pakistan also from Al-Hudaydah city two days back.