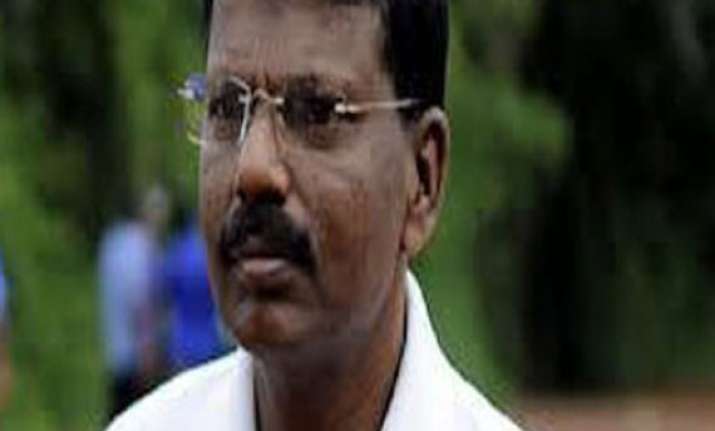 Thiruvananthpuram, Nov 12: Kerala governor HR Bhardwaj has suspended state information commissioner K Natarajan for allegedly intervening in the land-gift case involving CPM stalwart V S Achuthanandan.
Action against Natarajan, a former DIG of police, was taken on the basis of the recommendation made by the state government following a police probe which came across evidence to corroborate the charge that the information commissioner had urged a police official investigating the case to spare Achuthanandan.
According to official sources here on Monday, the governor had also written to the Supreme Court to conduct a detailed inquiry into the charge to decide whether Natarajan should be terminated from the post.
Under the law, the Supreme Court was the competent authority in taking termination procedures against information commissioners.
The complaint against Natarajan was given by DySP VG Kunhan, probing the land gift case in which Achuthanandan figures as the first accused.
The inquiry conducted by ADGP (Vigilance), R Sreelekha had found that Natarajan had been putting pressure on Kunhan to spare Achuthanandan in the case. The audio tape of the conversation purportedly made by Natarajan to Kunhan was aired by Malayalam TV channels a few weeks ago.
The case against Achuthanandan pertains to alleged violation of norms while allotting land to TK Soman, an ex-serviceman and his close relative in Kasaragod district when he was chief minister heading the previous LDF ministry.
Achuthanandan, the then principal secretary to Chief Minister Sheela Thomas, personal assistant Suresh and former revenue minister KP Rajendran are among the accused in the case. The matter came to light at the fag-end of the previous LDF rule and a vigilance probe was ordered by the present UDF government.
An FIR has been registered with Achuthanandan as the first accused in a vigilance court at Kozhikode.
Natarajan was appointed information commissioner during Achuthanandan's tenure as chief minister.