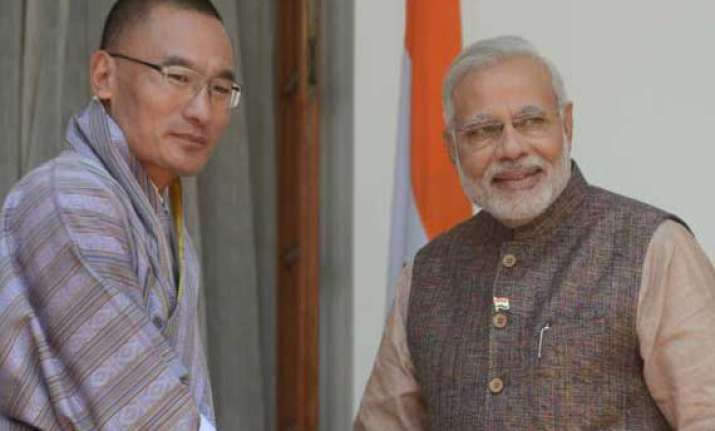 New Delhi: India and Bhutan have agreed to closely cooperate on issues of national interests and not allow each other's territory to be used for "interests inimical to each other", a joint statement said Monday.
Capping a two-day visit to Bhutan by Prime Minister Narendra Modi, the statement issued by both sides said: "The two sides exchanged views and held discussions on bilateral relations and economic cooperation as well as cooperation in regional and multilateral forums".
"The two sides expressed satisfaction with the cooperation between the two countries related to their mutual security. They agreed to continue with their close coordination and cooperation with each other on issues relating to their national interests, and not allow each other's territory to be used for interests inimical to the other," it said.
Expressing satisfaction at being a privileged partner of Bhutan in its socio-economic development, Modi assured Bhutan Prime Minister Lyonchhen Tshering Tobgay of India's continued commitment to capacity building especially in the education and Information Technology sectors in Bhutan.
India also conveyed its decision to exempt Bhutan from any ban or quantitative restrictions on exports of items like milk powder, wheat, edible oil, pulses and non-basmati rice, the statement said.
The two sides also agreed to further promote trade and investments between the two countries.
According to the statement, both leaders recalled the strong historical ties of friendship and understanding that exist between the governments and peoples of the two countries.
Lyonchhen Tshering Tobgay conveyed his appreciation to the government and people of India for the generous development assistance given to Bhutan since 1961.
The two sides acknowledged the importance of cooperation and mutual benefit arising from the hydro-power sector between the two countries and expressed satisfaction on the progress being made and reiterated their commitment to achieving the 10,000 MW target.
In keeping with the emphasis on capacity building and education, Modi announced the doubling of the amount of the Nehru-Wangchuck scholarship given to students in Bhutan every year.
Modi, who was on his first visit abroad after taking over as prime minister, called on Bhutan King Jigme Khesar Namgyel WangchuckAand addressed a joint session of the Bhutan parliament.
He also inaugurated a new building of the country's supreme court at which has been built with Indian funding.