Follow us on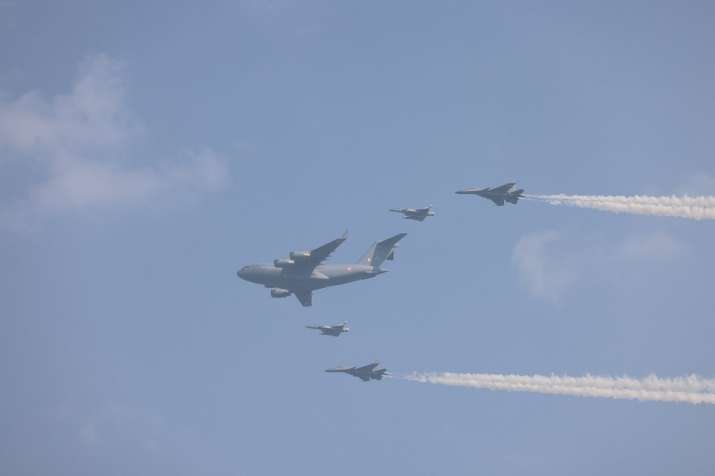 On the occasion of Air Force Day, Chief of Air Staff Unit Citations were awarded to three units including the 47 Squadron for a role in operations along with the Pakistan border post-February 26, 2019 Balakot airstrikes and in Ladakh sector opposite China since April-May last year for extensive high altitude operations.
According to a press release issued by the Indian Air Force, the 116 Helicopter Unit equipped with ALH Dhruv weaponised choppers has been awarded a citation by the Chief of Air Staff for a role on the Pakistan border against slow-moving aircraft post-Balakot air strikes and then for being deployed at a forward airbase along the northern borders post-Galwan clash in June last year after it established the first-ever high-altitude Attack Helicopter Detachment in the region.
The 2255 Squadron equipped with OSA-AK-M, Surface to Air Guided Weapon Squadron was located in the Kashmir area with the role of ensuring Air Defence of VA/ VPs in Kashmir and Ladakh sectors.
The Indian Air Force celebrated its 89th anniversary today as part of the IAF Day parade, which included formations with call signs related to the places and people involved in the 1971 war in which India defeated Pakistan and led to the creation of Bangladesh. "The famous Tangail airdrop operation would be depicted with three paratroopers including one from the Army jumping from a vintage Dakota transport aircraft," IAF officials had earlier said.
The Vinaash formation flying in the parade showcased the victory in Longewala operations with six Hawk aircraft. Originally, the Hunter aircraft had decimated Pakistani armoured formations which had come to attack Indian bases in the desert with an aim to strike deep inside Indian territory.
Prime Minister Narendra Modi also greeted the Air Force on IAF day. "They have distinguished themselves in defending the country and through their humanitarian spirit in times of challenges", he tweeted.
Honouring its only Param Vir Chakra awardee Nirmaljit Singh Sekhon, Sekhon formation would see one each Rafale, LCA Tejas, Jaguar, MiG-29 and Mirage 2000 fighter flying over the parade together. Meghna formation related to the famous Heli-bridging operations by the IAF to transport Army troops across the river Meghna would include Mi-17 and Chinook choppers with a howitzer underslung. 
The dress rehearsal for today's parade had taken place on Thursday. The IAF Day Parade will be live telecast at 08:00AM today. 
Meanwhile, the Indian Air Force on Thursday said it will ensure that transportation of the Covishield vaccine is not be disrupted during a planned 14-day closure of the Pune International Airport's runway.
The airport will remain closed from October 16 to 29 as the IAF will be undertaking runway resurfacing work, the airport authorities informed on Tuesday. The aerodrome is part of the Air Force's Lohegaon base.