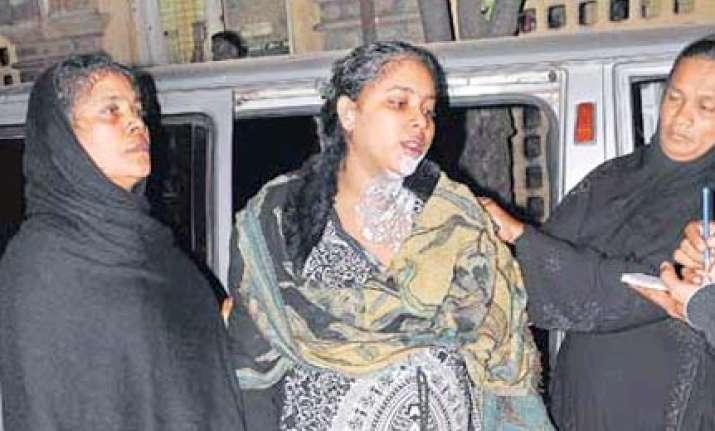 A nine-month pregnant woman was allegedly set on fire by her husband on Sunday night in Bangalore, reports Mid Day.
Twenty-four-year-old Meharunnisa, who sustained 35 per cent burn injuries, was due to deliver her first child in a couple of days. In her declaration to the police, she held her husband responsible for her condition.
She said she got married to Aghori Raman Kishor (Syed Abdur Rehman) (32) three years back. He converted to Islam after the marriage. She said he wanted to convert back to Hinduism, something she disagreed with, and he set her on fire due to this disagreement.
When he heard she was pregnant, he repeatedly asked her to go in for an abortion but Meharunnisa refused. He returned to his parents after that and they asked him to divorce her and return to Hinduism.
She said, "His parents brainwashed him, their ego spoiled our life. He was fine until I got pregnant."
Meharunnisa said another reason for their differences was her job. He used to keep asking her to quit but she, being the eldest in her maternal home, had to earn to support the family.
After repeated failed attempts to sort out their differences, Rehman decided to kill her yesterday. She said he applied an ointment on her to relieve her cold and tried to push her onto the cooking stove so that she would catch fire, as the ointment was highly flammable.
When she caught fire, Rehman ran out of the house but alert neighbours rushed in after hearing Meharunnisa's screams. She was admitted to Victoria Hospital.
Ayaz Khan, Meharunnisa's neighbour, said "We heard screams and rushed into the house to see what was going on. They have been unhappy for months and wanted to be separated."
A still-recovering Meharunnisa said, "If he had tortured me physically, I would still have proof. He tortured me mentally and never gave me even a rupee to spend. He is a cheat and I want the world to know his true colours. He even told me that he is Priyanka Chopra's relative!"
Meharunnisa added that the Kumar Swamy police station officials refused to register a case against her husband. Officials at the police station remained unavailable for comment.