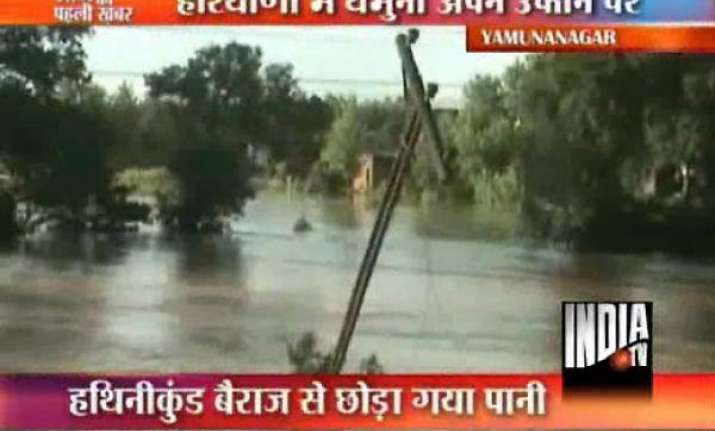 Yamunanagar (Haryana), Jun 29 : With torrential rains in the catchment areas, the water level in Yamuna here has risen considerably and on Wednesday evening, 1.67 lakh cusecs of water was released from Hathni Kund Barrage towards Delhi.

The flood water is expected to reach the national capital in the next 36 hours, officials said.

Big blocks of cement, machines, generator set and even a tractor were washed away by the furiously swirling Yamuna water, eyewitnesses said.

Normally 200 cusecs water flows in the Yamuna here, but on Wednesday it suddenly rose to one lakh cusecs.

SDO, Hathni Kund Barrage Attar Singh said, there are reports of rains having stopped in the hilly areas and the situation is expected to ease soon.

Flood water has entered nearly 50 villages of Yamunanagar, local residents said. Many houses were in three feet deep water.

Meanwhile, in Ambala, the river Markanda suddenly changed course flooding large cultivated areas. Several villages in Mullana area are in two-feet deep water.

The district administration has also issued an alert in the villages situated on the banks of the river, he said.

Deputy Commissioner  has appealed to the villagers not to panic. He promised the administration was ready to tackle any untoward situation.