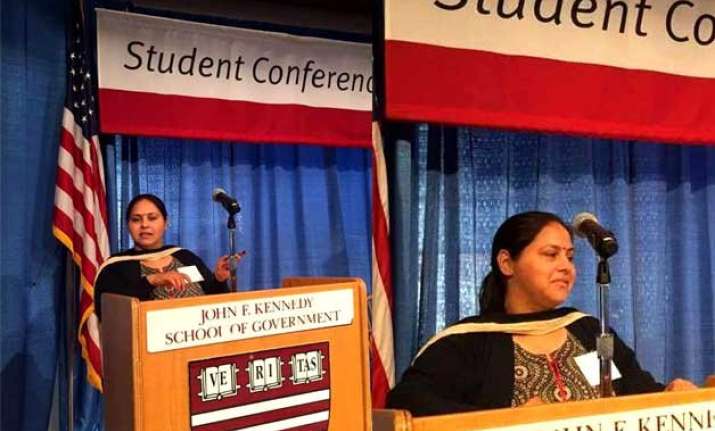 New Delhi: Rashtriya Janata Dal Chief Lalu Prasad's daughter Misa Bharti is facing an embarrassing allegation that she lied about being invited as a speaker by the Harvard University and posted fake pictures.
The educational institute has, however, revealed that she was not invited as a speaker at an India Conference held on March 7-8 and the pictures are a gross misrepresentation.
The pictures were posted by Misa Bharti on her Facebook account on March 7. Photographs uploaded on Misa's facebook page show her on stage, apparently addressing an audience. The photograph is captioned in Hindi: "Giving a lecture on the role of youth at Harvard."
The Harvard released a statement saying, "Misa Bharti was invited as part of the audience and not as a speaker of any panel at the India Conference at Harvard. Her attendee status can also be confirmed from the fact that she had to purchase a ticket as an audience. She was not invited to deliver any lecture."
The remarks came after the conference organising committee noticed that Misa Bharti had uploaded some pictures on her own on social media account which were objectionable due to gross misrepresentation.
On her Facebook page, Misa Bharti, who contested and lost last year's national election, had said: "Dear friends... I wish to share with you all that I have been invited by Harvard University to participate in 'India Conference' on 7th and 8th March. While delighted at the prospect of interacting with and sharing our concerns and commitments with great minds from across the world, I must confess this invitation is for all of us who wish to change the grammar of the contemporary politics with just means."
Misa is still in the US and has not reacted to the controversy.