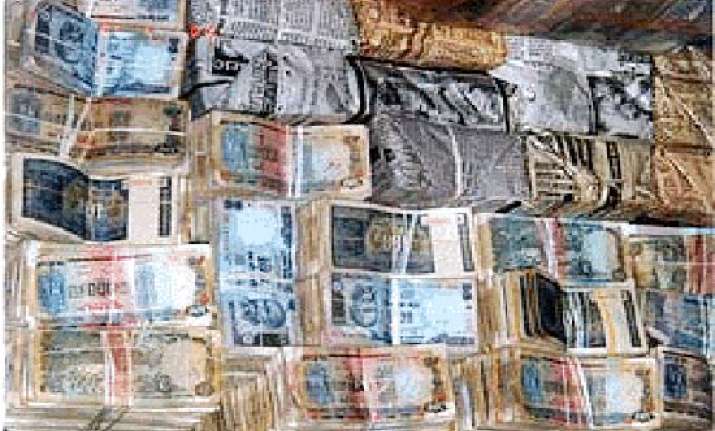 Mumbai, July 30: A private health laboratory i n Mumbai has found traces of coliform, E coli and Staphylococcus aureus on many currency notes, reports DNA. 

If you even try, knowingly or unknowingly (touching your tongue while counting notes, for instance), you will end up with a whole lot of pathogens in your body, says the report.

Equinox Laboratory recently found traces of coliform, E coli and Staphylococcus aureus on currency notes. These pathogens can cause a variety of stomach ailments with symptoms such as vomiting or diarrhoea.

Traces of pseudomonas, another family of bacteria, too were found. Doctors say these bacteria can cause serious infections in open wounds.

Equinox Laboratory, which conducts hygiene audits and monitors water and food quality, studied microbes that stay on a currency note.

The samples were randomly collected from shoppers. Since notes pass through several hands, the volume of pathogens is very high, a doctor said. And notes of lower denomination have the highest number of pathogens as these pass through multiple hands in a short span.

Ashwin Badri, head of Equinox Lab, said they were surprised with the results. "We checked for five microbiological parameters; we did not find two — salmonella and shigella — on the notes," he said.The laboratory tested notes of all denominations from Rs2 to Rs1,000 and coins of Rs5, Rs2 and Re1 denominations.

While the coins were free of pathogens, E coli, coliform and pseudomonas were swarming on Rs10 and Rs100 notes.The Rs50 and Rs10 notes had Staphylococcus aureus and Rs2 and Rs5, which are few in circulation now, had pseu­domonas, E coli and coliform.The Rs1,000 note was relatively free of disease-causing microorganisms as they change hands less frequently.

"Pathogens on currency notes will create more problems for those suffering from cancer, diabetics and people with hypertension," Dr Amit Maydeo, gastroenterologist at Breach Candy Hospital, said. "The pathogens found on currency notes can lead to gastroenteritis."

Dr Abha Nagral, a specialist in hepatology at Jaslok Hospital, said it was important to find out the particular type of E coli and coliform present on the notes.

"Finding pseudomonas is quite alarming; it can cause severe infection if it enters a wound."Badri said the study should act as a warning for people. "They should not touch their tongues while counting notes. It can be dangerous," he said. "They should use wet sponge to moisten fingers while counting notes."

Dr Abhay Chowdhary, director at Haffkine Institute of Training and Research Centre, said people should ideally wash their hands after counting notes to prevent infection. "Coliforms can cause stomach ailments," he said.