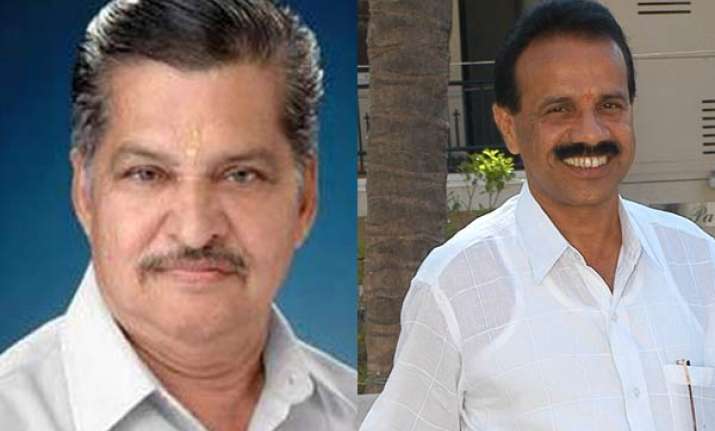 Bangalore, July 30: Former Karnataka BJP chief and sitting MP D V Sadananda Gowda and state minister V S Acharya seem to be emerging as the front-runners to succeed B S Yeddyurappa after a day of manoeuvring by the outgoing chief minister and counter-measures of the BJP leadership, reports Times of India.

Gowda is a member of the Lok Sabha from Udipi,while Acharya is the minister for medical education.

Although not strictly camp followers of Yeddyurappa, the two are not considered to be hostile to him either.

Equally crucial, Gowda is a Vokkaliga and Acharya a Brahmin and, therefore, pose no risk to Yeddyurappa's stature as the Lingayat overlord.

By the leaderships reckoning,Yeddyurappa,still smarting under the prospect of losing office,will acquiesce in the choice of either of the two.Yeddyurappas exit itself looked hazy earlier in the day.

Even as BJP emissaries arrived in Bangalore on Friday to choose his successor,he stunned everyone with a new demand retain me for the rest of my term.

On Thursday, Yeddyurappa gave it in writing that he would resign on July 31.

But on Friday evening, he wanted BJP observers Arun Jaitley and Rajnath Singh to elicit MLAs opinion about his continuance before asking him to step down.

The move is ascribed to the fact that a good number of legislators and MPs now back him.

However, the outgoing chief minister climbed down after the leadership gave him eight hours to fall in line or be prepared for suspension from the party.

After being issued this deadline,Yeddyurappa dispatched trusted Cabinet colleagues Shobha Karandlaje and Basavaraj Bommai to meet Jaitley and Singh at their hotel.The message included a scaling-down of his demands.Yeddyurappa is now insisting that he be appointed the party chief and one of his nominees the chief minister.