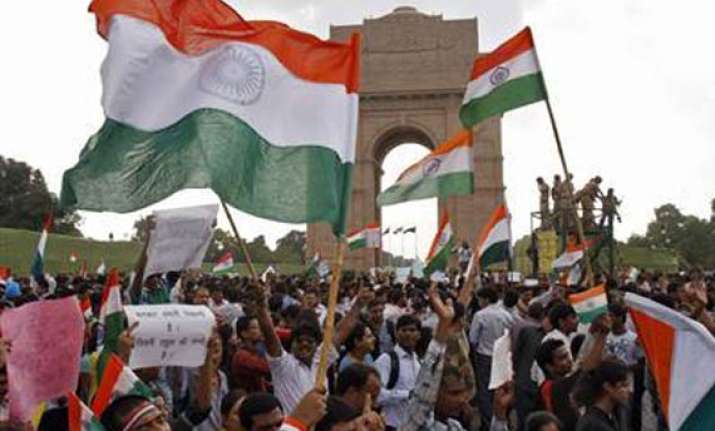 New Delhi, Aug 18: As Anna Hazare's supporters marched from India Gate to Jantar Mantar via Kasturba Gandhi Marg ,they were greeted by hundreds of employees of the Northern Railway who had gathered outside their office in Baroda House to express their support to the movement.

Though most of them had applied for leave on Wednesday, their leave applications were rejected.Moreover,a large number of government officials turned up at India Gate to be a part of the movement.

Delhi government school teachers, too, came to India Gate participate in the march.

Nearly 10 teachers from a government school in Badarpur had taken mass leave. 'We had just informed the principal that we wouldnt be able to come to school on Wednesday.Finally,someone has dared to raise the voice against corruption.The least we can do is support him', said R B Shehrawat,a teacher.

As the supporters marched towards Jantar Mantar ,the government servants stood on the pavement to cheer the marchers.

Most of them were waiting for the office hours to get over so that they too can join in.This is for the first time that people of this country are standing up against the corrupt system.It is time we raised our voice and be a part of this movement, said Santosh Kumari,who works with Northern Railway.

Employees of government offices in the vicinity also gathered at India Gate for about 30 minutes to express their solidarity to Anna and his movement.