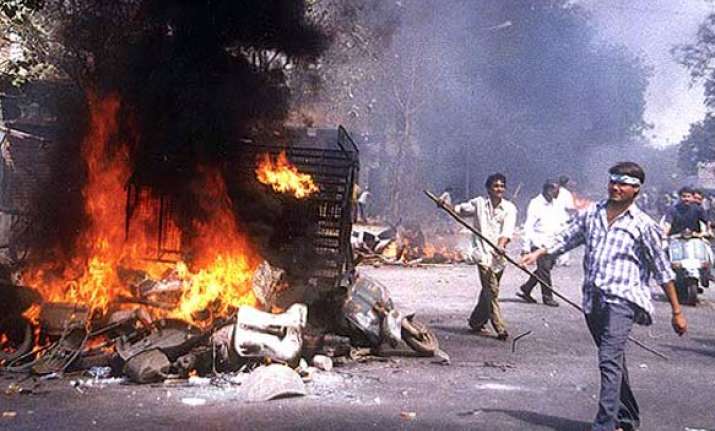 Ahmedabad, Feb 25: The prosecution today sought death penalty for all the 31 convicts in the Godhra train carnage case in a special court here which reserved till March 1 the pronouncement of quantum of punishment for them.
Designated Judge P R Patel heard the prosecution and the convicts inside the Sabarmati Jail here on the quantum of punishment and reserved the order for next Tuesday.
On February 22, the court while upholding the pre-planned conspiracy theory had convicted 31 people on charges of murder and criminal conspiracy and acquitted 63 others in the 2002 train burning incident, which left 59 karsevaks dead.
The incident had triggered widespread communal riots, in which over 1200 people, mainly Muslims, were killed.
After coming out of the court, special public prosecutor J M Panchal said, "We have prayed for death sentence for all the 31 convicted. We have made submission in support of our demand. The matter is now subjudice and I cannot disclose anything further. We will have to wait till March 1".
Defence lawyers A D Shah said the judge has heard the convicts who have sought leniency in their punishment.
The accused have also been convicted under IPC section 147, 148 (rioting with deadly weapons), 323, 324, 325, 326 (causing hurt), 153A (promoting enmity between different groups on religious grounds), various sections of the Indian Railways Act, Prevention of Damages to Public Property Act and Bombay Police Act.
The court had accepted the theory of criminal conspiracy behind the burning of the S-6 coach of Sabarmati Express carrying karsevaks returning from Ayodhya.
Scientific evidence, statement of witnesses, circumstantial and documentary evidence placed on record formed the basis of the court accepting conspiracy theory in its over 850-page judgement.
The prime convicts who are among the 31 include Haji Bilal, Abdul Razak Kurkur, Jabir Behra, Salim Zarda and Mehbub Hasan alias Latiko.
The trial conducted inside the Sabarmati Central Jail here began in June 2009 with the framing of charges against 94 accused in the carnage, that had triggered communal riots in Gujarat.
As many as 253 witnesses were examined during the year long trial and over 1,500 documentary evidences were presented before the court by the Gujarat police.
There were a total of 134 accused in the case, out of which 14 were released due to lack of evidence, five were juvenile, five died during proceedings of over nine years, 16 are absconding, and trial was conducted against 94 accused.
Of the 94, against whom the trial was conducted 80 are in jail and 14 are out on bail.
Out of 94, 63 were acquitted including prime accused Maulana Umarji and Mohammad Hussain Kalota, who was president of the Godhra Municipality at that time, Mohammad Ansari and Nanumiya Chaudhary of Gangapur Uttar Pradesh. PTI