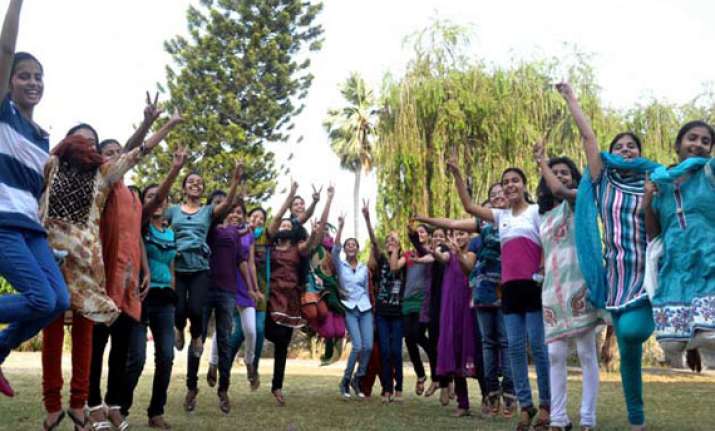 Allahabad: Girls outperformed boys in Class 12 exams of the Uttar Pradesh Board, results for which were declared here today.
A total of 30.48 lakh students had appeared in the examinations held earlier this year, and 28.10 lakh of them secured pass marks, said state Director of Secondary Education and Chairperson of Madhyamik Shiksha Parishad Shail Kumari Yadav.
The overall pass percentage this year was 92.21, a drop of 0.47 per cent from the previous year.
The drop in pass percentage was mainly on account of the girls' pass percentage falling by a significant 1.19 per cent, even though the pass percentage of boys rose by a modest 0.02 per cent.
Nevertheless, the pass percentage of girls (95.31) remained significantly higher than that of the boys (89.81), in keeping with a trend that has been discernible for past few years now.
There was, however, an overall deterioration in the quality of performance as the percentage of those securing a first division fell sharply by 5.56 per cent while the proportion of those getting second division fell by 0.01 per cent.
However, there was an increase of 1.62 per cent in the proportion of those managing a third division.
Basti (97.41), Sultanpur (96.56) and Ambedkar Nagar (96.53) emerged as the best performing districts, while Ghazipur stood at the bottom with a pass percentage of 85.58 only.
Interestingly, none of the districts known for academic achievements like Allahabad, Varanasi, Kanpur, Lucknow, Aligarh and Agra figured in the list of 10 best-performing districts in the examinations.
According to Yadav, 4.9 lakh more students appeared for the examinations this year as compared to last year. Consequently, the number of examination centres (10,546) too saw an increase this time.