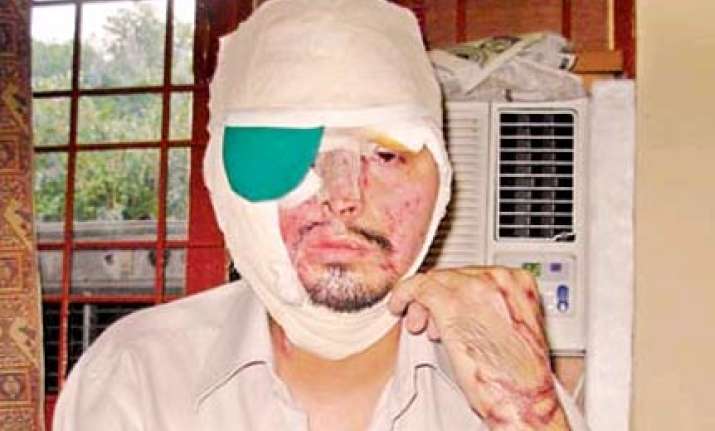 30-year-old Ravinder Negi, a resident of Noida has lost an eye and an ear after his fiancé Deepika Panwar, 25, threw acid on his face on May 17, The girl is out on bail, reports Mid Day.
Ravinder got engaged to Deepika in April, but after sometime he realised that Deepika was growing distant and did not seem too interested in getting married. The match had been arranged by the parents on both sides.
"I often visited Deepika when she was staying at her brother's home in East Vinod Nagar. Everything was going smoothly. I was working in a private firm in Noida and Deepika had her office in Gurgaon.
Both of us were earning handsome salaries and I was planning for a brighter future. But after sometime Deepika left her brother's house and started living in as a paying guest in Gurgaon. I smelt some foul play and realised that something was wrong in her behaviour. She started ignoring me and it was hard for me to meet her daily as Gurgaon is far away from Noida," he said.
Ravinder was keen to sort things out. "I spoke to her several times about her behaviour but she simply denied everything and pretended to be busy. One day she asked me to break off the engagement. I told her to not take such decisions without confirming with her parents because they had decided this match. Then on May 17 she called me up at night and told me that she was stuck in Lajpat Nagar and wanted to go to her brother's place. I reached there and we caught a bus to East Vinod Nagar. We were talking in the bus and we reached the destination at 11.30pm. I also got off the bus to see off Deepika.
But as we reached the bus stop she again said that she didn't want to be with me anymore and she took off the engagement ring and returned it to me. I again told her that the marriage was not only our decision and she must tell her parents about it. I put the ring inside a bag she was carrying. Suddenly she took out a bottle of acid from the same polythene bag and threw the contents on my face and as I turned she threw the rest of it onto my body and then fled from the spot. I called up the police," Ravinder added.
Ravinder was taken to Lal Bahadur Shastri Hospital but seeing his condition the doctors there referred him to AIIMS. Subsequently the physicians at AIIMS directed him to Safdarjung Hospital as his situation was serious.
"I spent about a month in the hospital. I have lost one eye and ear. I've even lost my sense of smell. There are burn marks on my whole body. My final surgery was held on August 6. Meanwhile I overheard that the cops booked Deepika under section 324 of IPC and she got bail immediately after arrest," Ravinder added.