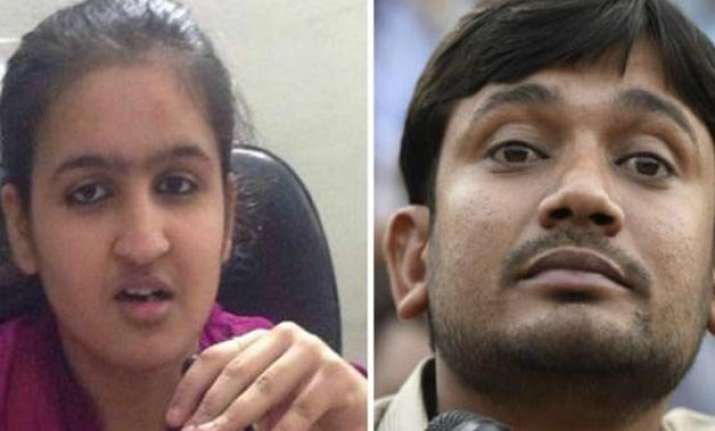 New Delhi: Irked over the ongoing fiasco over anti-national sloganeering at JNU campus, Jhanvi Behal, a 15-year-old girl from Ludhiana, has challenged JNUSU president Kanhaiya Kumar for an open debate on freedom of expression.
Jhanvi, std 10 student of the DAV Public School, Ludhiana, also asked Kanhaiya not to use abusive language against Prime Minister Narendra Modi and instead criticise those who raised anti-national slogans in the campus.
"What has happened in JNU campus in the name freedom of expression is not tolerable for any Indian. The students were raising anti-India slogans, when army men were sacrificing their lives fighting against Pakistan sponsored terrorists," Jhanvi, who was awarded for her contribution to 'Swachh Bharat Abhiyan', said.
"What Kanhaiyaji said about Prime Minister Modi wasn't appreciable at all. The students are indulging in mud-sledging and using abusing language against the Prime Minister, who is elected by citizens of India. Their act will malign the image of India in the whole world. Instead of criticising the Prime Minister, he should have something on those who raised anti-national slogans in the campus. I invite him for an open debate on what he said on Prime Minister Modi," Jhanvi added.
The teenage girl is an active member of an NGO Raksha Jyoti Foundation. 
She further accused Kanhaiya and others of misusing the fundamental right for their political gain.
Jhanvi said that Prime Minister Modi has been working tirelessly for the nation's betterment, adding it is very easy to scorn at someone by sitting at home.
Jhanvi has raised several public issues in the past, including the matter of road blockage of various organizations which she had taken to the court.
Recently, she had filed a writ in the Punjab and Haryana High Court against adult movies and porn content on social networking sites.