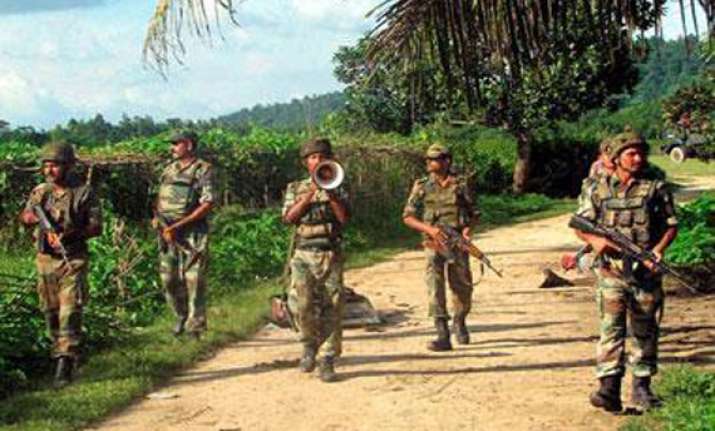 Guwahati, Nov 17 :  Four persons were killed in Kokrajhar amidst indefinite curfew taking the toll in the current wave of violence between Bodos and Muslims in the lower Assam district to 10.
The four were killed at Jiaguri by armed assailants who fired randomly on a group of persons last night following which patrolling was intensified and vigorous search operations launched to seize illegal arms, official sources said here.
Kokrajhar Deputy Commissioner Jayant Narlikar said the situation was under control and the army was conducting flag marches and area domination to prevent further outbreak of violence.
Additional security forces would soon arrive, he said adding the decision on relaxing the three-day old curfew in Kokrajhar district would be taken later this evening.
IGP(BTAD) G P Singh said an executive member of Bodoland Territorial Council (BTC) Monokumar Brahma alias Jalja was arrested from his residence for possessing illegal arms.
Two AK-47 rifles, magazines of AK-47 rifles and 60 rounds of assorted ammunition have been seized from Brahma's bedroom and he was being being interrogated, he said adding investigations were on to ascertain whether he was involved in yesterday's killings.
The Centre had asked Assam government yesterday to immediately seize illegal arms and arrest those involved in clashes between Bodos and Muslims by deploying enough forces, including Army, in the strife-torn areas.
Official sources said Bodoland Peoples Front leader and former legislator Hemendra Nath Brahma was detained yesterday for violating curfew norms at Gossaigaon.
Besides, two militants of National Democratic Front of Bodoland were apprehended by security forces from Harisingha in Udalguri district, the sources added.
The anti-talk faction of the banned outfit had gunned down tea planter Adilur Rahman in Sonitpur on Novemer 13.
The fresh wave of violence broke out in Kokrajhar, which is under Bodoland Territorial Administered Districts, on November 10 following a lull of about three months.
The violence in July-August in BTAD districts and Dhubri between Bodos and Muslims had claimed 90 lives and rendered 4.8 lakh homeless.