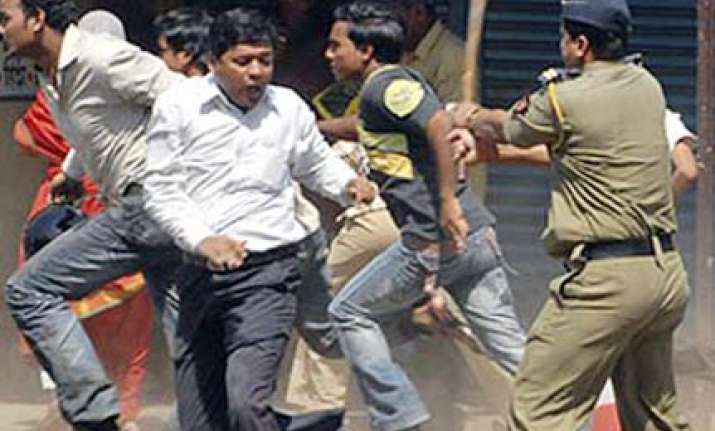 A dozen workers of Maharashtra Navnirman Sena (MNS) were arrested on Tuesday for disrupting a film shooting in Mumbai, alleging foreign artistes were working in the Hindi movie without valid documents.  
The activists of the Raj Thackeray-led party stalled the shooting of under production movie 'Angel' for over one- and-a-half hours at Aksa beach and asked the 10 foreigners to show their work permits, Assistant Commissioner of Police (ACP) M M Sheikh said.  
Twelve MNS workers were arrested and charged with wrongful restraint and unlawful assembly, he said, adding more arrests are likely.  
Amey Khopkar, President of MNS Cine Workers Association, alleged the police were working under pressure and apprehended their men without proper reason.  
"We had information that the foreigners, who came here on tourist visa, did not have proper documents that allowed them to work in films. Accordingly, our men went to the sets of 'Angel'. The foreigners were unable show us work permit following which we took them to police station," he said.  
However, the film's director, Ganesh Acharya, claimed the foreign artistes possessed all required documents.  
"They (foreigners) have work permit. We tried to convince the MNS workers but they did not listen to us. They asked me to come to police station with the artistes. I sent my executive producer with them," he said.  
Acharya was shooting a song with 100 artistes, including 10 foreigners, when the MNS workers stormed the sets.  
On March 15, eleven MNS activists were arrested on the charge of extorting Rs 27 lakh from a film producer. PTI