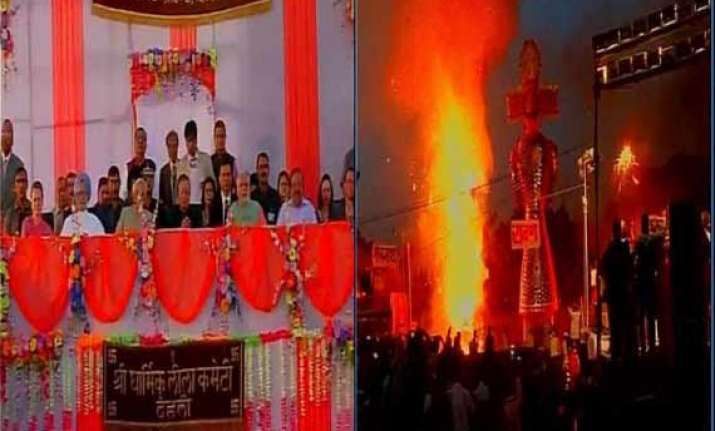 New Delhi: Towering effigies of 10-headed demon king Ravana, his son Meghnad and brother Kumbhakaran crackled in fiery splendour marking the triumph of good over evil as gusto and fervour marked Dussehra festivities across the country today.
Crowds burst into cheers as the stuffed effigies, dotting grounds and open spaces, went up in flames at sundown. With police keeping a hawk-eye vigil, the festivities passed off peacefully in different parts of the country.  In Delhi, President Pranab Mukherjee, Prime Minister Narendra Modi, Vice-President Hamid Ansari, former Prime Minister Manmohan Singh, Congress chief Sonia Gandhi and Union minister Harshvardhan Singh were among the dignitaries who saw the evil going up in smoke at Subhash maidan.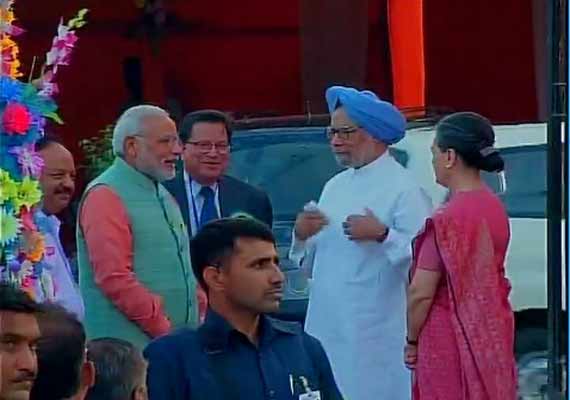 Addressing the gathering in Hindi, President Mukherjee said the day symbolises victory of good over evil.  "It inspires us to face difficulties...come, let us work together for development," he said in his brief address.  After the celebrations at Subhash Maidan, Sonia and Singh reached Ramlila Maidan here for another 'Ravan dahan' event where they were joined by Congress Vice President Rahul Gandhi.