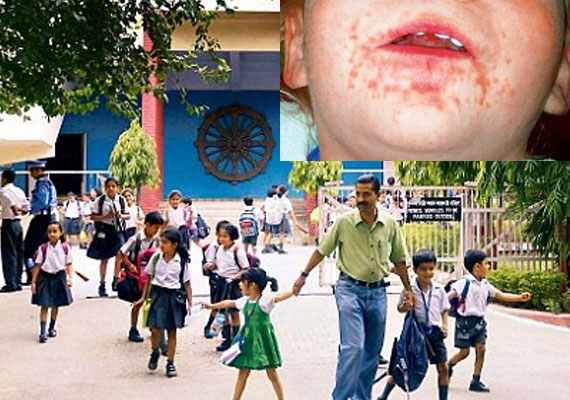 New Delhi: The upscale Sardar Patel Vidyalaya in Lodhi Estate, Delhi has closed its nursery wing from September 23  till October 16 after eight of its students reportedly contracted hand, foot and mouth disease, that is spreading viral among the capital's children.
In a health circular issued by Sardar Patel Vidyalaya, it said,  "... there have been eight cases of "hand, foot and mouth disease" in the school to date. "For the health and safety of our children we have decided to close the nursery wing from September 23."
The school has asked parents to check symptoms relating to HFM disease, like rashes on hands and feet, ulcers in throat, mouth and tongue, and fever.
"Because the children are below the five years of age, the school is taking extra precaution and we are closing the nursery wing," said principal Anuradha Joshi. 
Doctors have observed a sudden hike in number of  HFM  cases across schools this month.
"This is called clumping as I have come across at least 40 cases this month, though we hardly see 10 cases in a year. We have seen children from different schools suffering from this disease. Parents should refrain from sending children with the disease to school because they are spreading it to other children, and even the schools should be proactive in not letting children with rashes on hands and feet come to school," Dr Ashish Gupta, senior consultant, pediatrics, Rockland Hospital told Mail Today. 
Doctors are advising parents to keep children indoors if they are affected as the disease is contagious.
Dr Vidya Gupta, senior paediatric consultant at Apollo Hospital, added, "The disease is contagious. Parents should ensure that if their children are affected with the disease, they remain indoors and see a doctor in case of any complication. In most cases, symptoms improve with rest."
Dr Gupta laid stress on hand hygiene for preventing the disease from spreading. 
Dr Vandana Kent, senior consultant, paediatrics, Rockland Hospital, said they have come across at least 30 children infected with the hand, foot and mouth disease in the past one month.
"The disease is spreading. Many cases have come of children suffering from symptoms like mouth ulcer and rashes on the body parts, the classical symptoms of hand, foot and mouth disease," she said.
What is HFMD?
HFMD is caused by intestinal viruses, and usually affects only infants and little children.
It is highly contagious and spread through direct contact with the mucus, saliva, or faeces of an infected person.
It typically occurs in small epidemics in nursery schools or kindergartens, usually during the summer and autumn months.
The Learning Tree Play School at Sujan Singh Park has also put up a notice for parents after finding at least four children infected with the virus.
The Shri Ram School, Aravali has also issued a similar advisory to parents asking them to be alert and not send the child to school if symptoms persist. The school has been sanitising the school premises to keep the infection at bay.