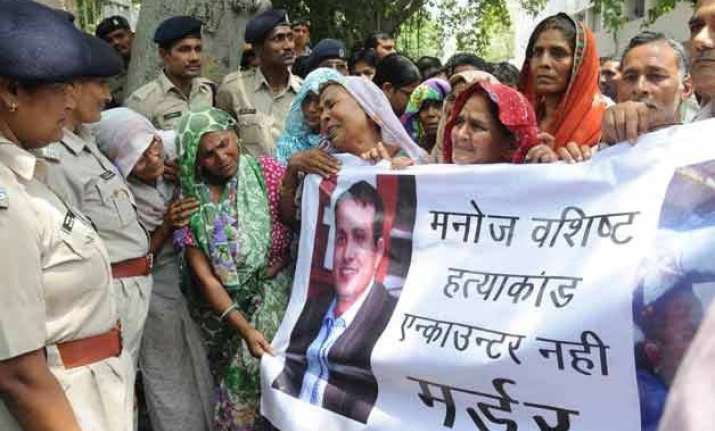 New Delhi: Manoj Vashishtha, the man who was gunned down by cops at a restaurant in Rajender Nagar area of Central Delhi on Saturday, had no cases against him, the Special Cell of Delhi Police had told this to a city court a week before the encounter.
Police claimed that he was wanted in several cases and that he opened fired at cops when they went to arrest him. But his family members said that the shootout was a staged killing.
According to a report in Hindustan Times, Vashishtha had filed for anticipatory bail on May 5 and told the court that he was being harassed by Special Cell officers. In his plea, he said that seven of the officers had threatened to arrest him in Dhaula Kuan on April 29.
Hearing Vashishtha's plea, the court sought a report from the cops and issued order: "As per the report from the Special Cell, neither any FIR has been registered nor has any complaint been received against him."
Vashishtha had, however, seven cases of cheating against his name but none of them were under the Special Cell.
Vashishtha's family member demanded a CBI probe into the killing. They also met Delhi Chief Minister Arvind Kejriwal, Union Home Minister Rajnath Singh and Delhi Police Commissioner BS Bassi demanding justice.
A probe by a Special Investigation Team (SIT) has been initiated and on Tuesday, all nine personnel involved in the operation were transferred "to ensure a fair probe."
On Victim's wife Priyanka Vashishtha claim that he had paid 60,000 to the officers on April 29, Bassi has also ordered a vigilance inquiry against the nine policemen.
Priyanka has maintained that the cheating cases were not valid reason for the police to kill her husband in an encounter.
The Special Cell, which deals with matters related to terrorism and internal security, has defended its officers' saying they acted in self-defence after Vashishta fired the first shot when they went to arrest him at the Sagar Ratna restaurant.
The SIT is also looking into whether Vashishta's phone was under surveillance.
According to Special Cell officers, they had received the sanction to intercept his phone a month ago.
Authorisation for phone taps requires strict screening and is given only in cases where there is a perceived threat to internal security.