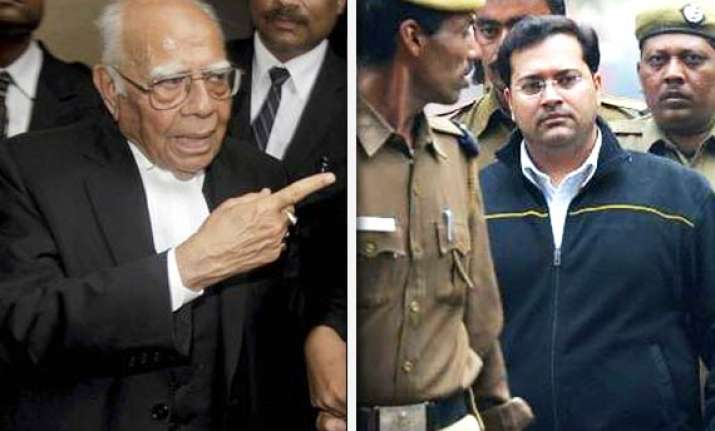 New Delhi, Nov 14: Ramp model Jessica Lall's killer Manu Sharma may be allowed parole to attend his brother's marriage on an undertaking that he would not leave Karnal and Ambala, where two key ceremonies are slated to be held, the city police told the Delhi High Court today. 

The police, which had been opposing his plea, took a U-turn before a single-judge bench of Justice V K Shali Sharma.

Justice Shali reserved his order on Sharma's plea after hearing arguments.

Delhi Government's Standing Counsel (Criminal) Pawan Sharma told Justice Shali that the police will have no objection to the grant of parole to Sharma, if he gives an undertaking to the court that he will not leave Karnal and Ambala where the marriage ceremony and the reception is slated respectively on November 22 and November 24. 

In an affidavit submitted to the court last week, the police had objected to Sharma's plea for parole, saying his past conduct does not entitle him to it as he was found indulging in brawl in a discotheque, when out on parole to visit his ailing mother in Chandigarh and to attend the last rites of his grand mother.

Earlier appearing for Sharma, the son of an influential Congress leader Venod Sharma, senior counsel Ram Jethmalani sought parole for him asserting that visiting discotheque, when out on parole, is not illegal and not a crime. 

"It is not that only bad people go to the bar. Highly decent people, including some reputed lawyers, go there," said Jethmalani, adding, "Even going to a bar when one is on parole is not an offence."

Denying allegations of breach of parole conditions by his client during his release in 2009, Jethmalani said, "I had obtained parole for business purposes earlier and had not committed any breach of parole conditions." At this, Justice Shali countered him, saying, "You (Manu) were allowed to attend your business and not to attend night clubs.

"For all these years you have not reformed and you went to night club and got into a brawl," the judge remarked. 

"It was a misnomer. I was in a restaurant-cum-bar in the Samrat Hotel here. You may call it anything," Jethmalani shot back, while alleging that media misreported the incident. 

"These days most business matters are dealt in bars. His client is the owner of a chain of restaurants," he said. 

At this, the court said, "He can do the business dealing in his own bar, not in others' night club?" Jethmalani said during his client's parole from January 1, 2009 to April 1, 2009, no FIR was registered against him for any of his activities.

Jethmalani argued that for grant of the parole, a 2010 guidelines on the subject stipulates that the prisoner's conduct for only past one year is relevant for his temporary release from the jail.

"Even if you were bad two years earlier, but maintained a good record in past one year, one is entitled to parole as per the 2010 government guidelines," said Jethmalani. 

Jethmalani claimed Sharma had also been awarded prizes by jail authorities for his good conduct in the prison. 

"I have been prized by the jail authority for my good conduct and discipline and the jail authority has even recommended for parole to me," he said. 

"To maintain the family ties, the convicts are entitled for parole. They should not get alienated from the society," the counsel said.

Submitting the schedule for marriage ceremonies, Jethmalani said his client should be allowed to attend the pre-marriage function of 'ladies sangeet' on November 21 at Chandigarh, marriage at Karanal on November 22 and reception at Ambala on November 24.

But the judge asked him "what will a man do in 'ladies sangeet'?"

Sharma was awarded life imprisonment by the Delhi High Court in December 2006 for shooting to death Jessica at Tamarind Court Cafe restaurant owned by socialite Bina Ramani at Qutub Colonnade in South Delhi during a late night party in 1999.

The life term was upheld by the Supreme Court last year.  In September 2009, he was given a 30-day parole to attend to to his ailing mother and perform rituals following the death of his grandmother.

But, the basis for the parole was proved unfounded as Sharma's grandmother had already died in 2008. 

During the second extension of the parole for another 30 days, Sharma was seen partying in a discotheque here. His mother, whose illness was also the basis for the parole, was seen at a media briefing promoting a ladies cricket tournament at Piccadilly -the family-run hotel in Chandigarh.