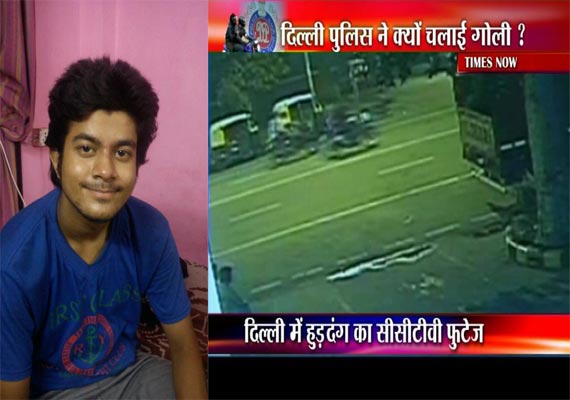 New Delhi, July 28: The family of the stunt biker who was shot dead by Delhi Police here in the early hours Sunday has demanded life imprisonment for the guilty officer.
Karan Pandey, a resident of south Delhi's Malviya Nagar, was shot dead around 2.30 a.m. near Le Meridien Hotel on Janpath. Police said they aimed at the motorcycle's tyre, but hit Karan Pandey accidentally.
"They have killed my son. The guilty officer should get life imprisonment," Karan's mother Manju Pandey told IANS. She said she did not know when Karan left the house.
"He slept with us last night. I don't know when he went out. He does not have a bike and he does not know how to ride one," she said.
Karan Pandey, in his late 20s, was riding pillion on Punit Sharma's motorcycle.
"Police came to our home around 6.30 a.m. They said Karan had been injured in an accident and is in RML (Ram Manohar Lohia Hospital). When we went there, they said he was dead," Manju Pandey added.
Punit Sharma, who is of the same age, was injured and also is in the Ram Manohar Lohia Hospital.
"If they had done something wrong, police could have arrested them. Why did they have to fire?" said Punit's mother Kusumlata Sharma.
She added that Punit Sharma left home around 11 p.m. Saturday and said he would not return that night.
The incident occurred after police received information at 2.06 a.m. that around 35 to 40 bikers were performing dangerous stunts near Gol Dhak Khana on Baba Kharag Singh Marg.
Delhi police spokesperson Rajan Bhagat said police fired at tyres of the motorcycles and a bullet hit Karan Pandey.
The victims were rushed to Ram Manohar Lohia Hospital, where Karan Pandey was declared dead. A medical examination revealed that Punit Sharma was under the influence of alcohol, police said.