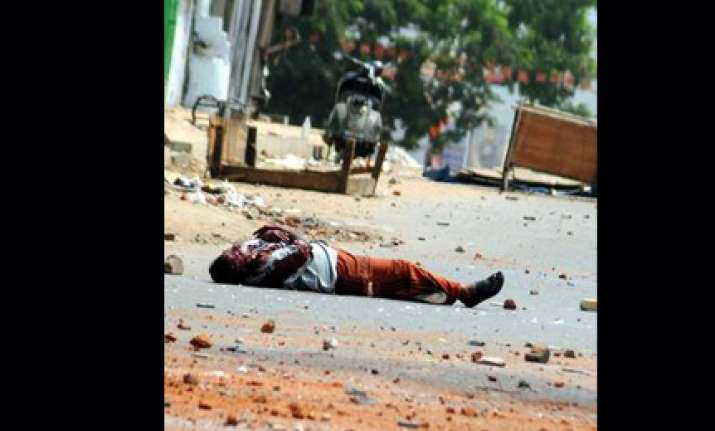 One person died and two were injured in fresh incidents of communal violence n Hyderabad on Monday following which curfew was clamped in the old city area.  The Centre rushed 1,800 paramilitary personnel to help police restore peace in the sensitive areas.
Police sources said one person was stabbed while another sustained injuries in the Shalibanda area. A man was also injured when a group of vandals attacked a vehicle at Khilwat Chowrasta.  
The state government imposed curfew in the old city area of Hyderabad from 7 pm after fresh incidents of violence erupted in Moghalpura, Shalibanda, Charminar, Aliabad and Lal Darwaja localities. The curfew would be in force in 17 police station limits of the south zone area, DGP R R Girish Kumar told PTI. 
Though the situation was normal till noon, a group of miscreants resorted to stone-pelting on passersby which escalated the situation, police said.  State Home Minister P Sabita Indra Reddy, who has been monitoring the situation, told reporters that stern action would be taken against trouble-makers. 
"The Centre is also monitoring the situation. We are getting additional forces from other states. Those indulging in incidents of violence would be dealt with sternly. We are hopeful that normalcy would return soon," she said. 
The Home Ministry has rushed 1,800 paramilitary personnel to the Andhra Pradesh capital. About 400 Rapid Action Force (RAF) personnel have already reached here while 400 more RAF personnel are being airlifted from Ahmedabad and Coimbatore. 
"We are also sending 700 additional CRPF and 300 CISF personnel to Hyderabad to assist local police in handling the situation arising out of the violence," a Home Ministry official said in Delhi.  At least 36 people were injured in stone-pelting and 70 others taken into custody after the clashes between two communities in the old city that erupted last evening.  
Trouble began in Musarambagh area under Hussaini Alam police station limits when members of a community wanted to erect religious flags near a place of worship which was objected to by the other community, leading to clashes which escalated yesterday and spread to other parts.  Chief Minister K Rosaiah said his government was taking every step to ensure peace and appealed to all sections to observe restraint. "AICC President Sonia Gandhi called me over phone today and enquired about the situation. She has also appealed for peace," he said. PTI