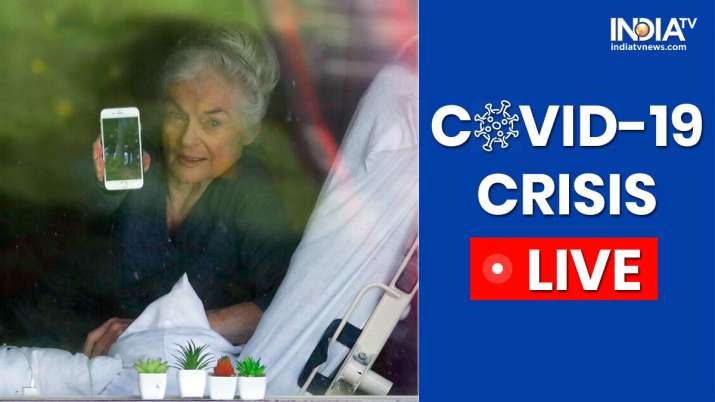 Coronavirus Breaking News March 21, 2019 | As it happened
"Coronavirus has now spread to 148 foreign countries," says Trump

White House to address press conference on Coronavirus shortly

Uttar Pradesh Chief Minister Yogi Adityanath has forbidden his ministers from going to crowded places due to the growing scare over the coronavirus outbreak. Adityanath has said that if it is mandatory to meet a person, meet him/her at home. He has instructed all the ministers to do all necessary work from home.

Tamil Superstar Rajinikanth on Saturday backed Prime Minister Narendra Modi's call for 'Janta Curfew' and said everyone should stay indoors. The 69-year-old actor said the virus was at its second stage in India and appealed to people to stay indoors so that it can be prevented entering the third stage.

One more tests positive in Gurugram; city toll reaches 6

Twelve more people tested positive for COVID-19 in Kerala, Chief Minister Pinarayi Vijayan said on Saturday. The total case count in Kerala now stands at 49.

An FIR was registered on Saturday in Madhya Pradesh's Jabalpur district against a man who, despite having traveled to a foreign country, allegedly evaded screening. He later tested positive for the coronavirus. 

Parking at the Metro stations will also remain closed on Monday (March 23). These modified Metro services are applicable for this Monday only.

Metro services will remain closed from 10 am to 4 pm on Monday. Metro services will again resume from 4:00 PM from all lines & will continue till 8:00 PM.
The West Bengal government has ordered all restaurants, bars, pubs, nightclubs, amusement parks, museums and zoos to remain shut till March 31 as a precautionary measure in wake of the coronavirus pandemic.
After Chandigarh, A 40-year-old woman from Kharak Mangoli in Old Panchkula tested positive for COVID-19.
Lav Agarwal, Joint Secretary, Health Ministry: 1600 Indians and people from other countries were kept in quarantine centres in India. Today 262 people from Rome, mostly students will come & they will be kept in quarantine centres.
Lav Agarwal, Joint Secretary, Health Ministry: 111 labs across the country will be functional from today
Delhi Chief Minister Arvind Kejriwal: I appeal to all of you to discontinue your morning walks for some time and stay at home. We are not doing a lockdown currently but we might in future, if necessary for your betterment and safety.
UP's state minister Atul Garg has gone into self-isolation. Garg is believed to have met the state health minister Jai Pratap Singh, who was one of the politicians to have attended the party hosted by Bollywood singer Kanika Kapoor.
Road Transport Corporation has temporarily withdrawn the 25% concession given to senior citizens on bus tickets, to minimise their travel by KSRTC buses. 
Indian Railways relaxes refund rules for PRS (passenger reservation system) counter generated tickets. Passengers are advised to avail the facility and avoid coming to Railway Station.
2 passengers marked with mandatory quarantine were found to be travelling on Rajdhani Train between Bengaluru and Delhi today. They were immediately deboarded & the entire coach was sanitised. 
Limited local transmission of COVID-19 has been seen in some pockets of Nagpur. Testing strategies being strengthened. Sources added this is the reason government is appealing to maintain social distancing. Field work for containment of affected areas being conducted and testing strategies implemented. 
Migrant labourers are leaving Kozhikode due to Coronavirus. A migrant labourer says, "We are leaving due to the fear of virus". There are total 40 positive cases in the state.
One more person tests positive for coronavirus in Gujarat; total rises to eight
A 32-year-old man with travel history to Mecca has tested positive for Coronavirus. He has been placed under isolation and is receiving treatment.
One more person tests positive for new coronavirus in Noida, total 5 such cases so far
Maharashtra Government issues circular to restrict or lower the use of air-conditioners to a minimum in government offices, to curb the spread of Coronavirus.
Rs 1000 each will be given to 15 lakh daily wage labourers and 20.37 lakh construction workers to help them meet their daily needs amid coronavirus outbreak: Yogi Adityanath announced. 
A total of 23 people have been found to be infected with coronavirus in the state. Out of the total cases, nine people have recovered. We have a sufficient number of isolation wards in the state, Yogi Adityanath said. 
Two more people have been tested positive for COVID-19 in Pune, taking the total tally of positive cases in Pune to 23. One positive case has travel history to Ireland and the other does not have any recent travel history: Naval K Ram, Dist Magistrate,Pune, Maharashtra.
6 new COVID-19 cases have tested positive in Rajasthan out of which 5 have surfaced in Bhilwara and 1 from Jaipur. All 5 new Bhilwara cases are hospital staff where the doctor who tested positive yesterday, worked.
Third ​coronavirus positive case have been found in Bengal. Scotland returned youth tested positive in Habra, North 24 Pargana. The infected person has been sent to isolation in Beleghata.
Samples of 2 Chandigarh residents with travel history to the US have tested negative for Coronavirus: Department of Public Relations, Chandigarh. 
CBSE launches helpline number for students to create awareness on coronavirus.