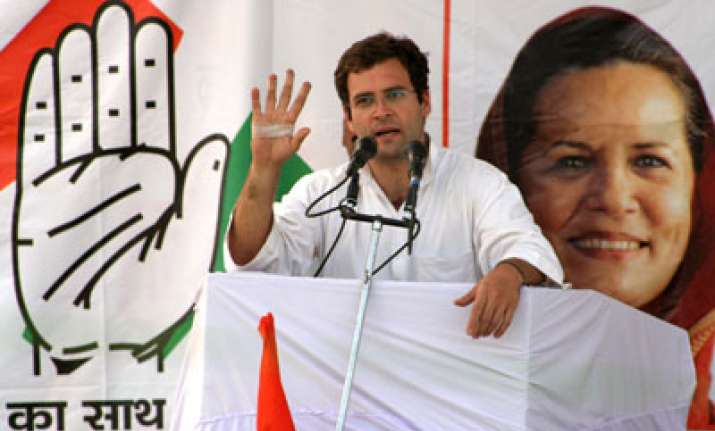 The Congress' 'Mission 2012' in Uttar Pradesh is set to roll from April 14 when Rahul Gandhi will flag off a 'rath yatra' to consolidate gains made by the party in the Lok Sabha elections last year and make it a serious contender for power in the coming Assembly polls.  
The party General Secretary and Amethi MP, credited for scripting the party's success story in the key state, will flag off the yatra on the birth anniversary of Dalit icon B R Ambedkar, with an aim to wean away the core Dalit vote bank of Mayawati-led BSP.  
Gandhi has been visiting Dalit households in UP for the last several months and his efforts had led to the party bagging 22 of 80 seats in the state in 2009 Lok Sabha polls, its best ever performance in the last two decades.  
"Rahul Gandhi will flag off the yatra on April 14 at Ambedkar Nagar," AICC General Secretary in-charge of UP, Digvijay Singh, said.  
The first phase of the yatra would begin on April 14 and end on May 31 and the second phase will begin after the monsoons from September 15 and conclude on November 10 with a rally of party President Sonia Gandhi at Allahabad, he added.  
Singh said the yatra will highlight achievements of the UPA government and also that of Congress in its journey of 125 years.  
Party leaders said the yatra also aims to expose "anti-Dalit policies" of the Mayawati government and her "ill-acquired" wealth over the years and her "devil may care" attitude towards the Dalits, her primary vote bank.
The Congress' strategy includes 10 different 'rath yatras' in every nook and corner of the state to cover all assembly constituencies and blocks.  
Singh said the party leaders would use the yatra to tell the people of UP how Mayawati had become "daulat ki beti and not a Dalit ki beti" (daughter of wealth, not Dalit). He said the party was compiling the list of assets she acquired after coming into politics.  
Gandhi, known for visiting college campuses and mingling with students, will also visit Shibli National College in Azamgarh in the next academic session to interact with the students there.  
Azamgarh has been in news after several youths from the city and nearby areas were charged in over 50 terror related cases in six cities across the country.  
"He (Rahul Gandhi) will be visiting there in the next academic session. The date has not yet been finalised but he will go there," Singh said. PTI