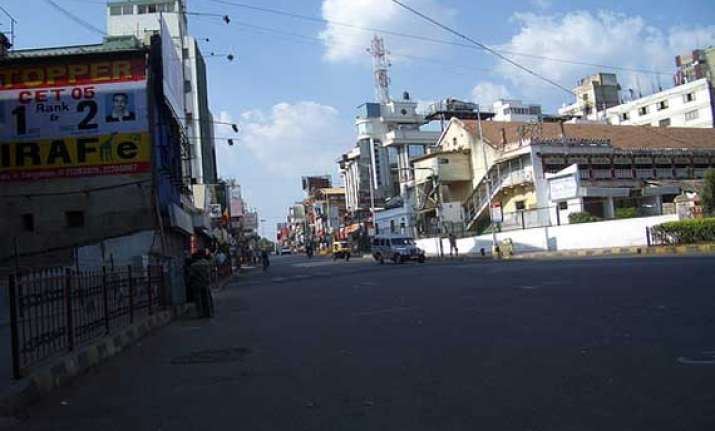 Bangalore: A 12-hour bandh in the country's IT hub to protest rising cases of sexual offences against women and children called by Kannada outfits today evoked a mixed response.
Commercial establishments in several areas remained shut while buses operated by Bangalore Metropolitan Transport Corporation plied but with fewer passengers. A section of autorickshaws stayed off the roads, which were mostly bereft of the usual hustle and bustle of a working day.  
Government offices and banks functioned while most educational institutions declared a holiday.  
Essential services were normal as they are exempt from the bandh called by "Kannada Okoota (federation)", an umbrella body of several Kannada organisations led by Vatal Nagaraj, which has called the dawn-to-dusk bandh call, also demanding "severest" punishment to the perpetrators of sexual offences.
Some of the shopping malls were closed, as also cinema theatres which cancelled morning shows.
Security has been beefed up with police, bolstered by central forces, mobilising "maximum amount" of force.
No untoward incident has been reported, police said, as they patrolled the city and kept a close vigil in sensitive areas.
The bandh comes after the public outrage over the alleged recent gangrape of a six-year-old girl at Vibgyor High school that spilled into the streets and drew all-round condemnation with the government and police coming in for criticism.
Different Kannada outfits held demonstrations in several parts of the city, shouting slogans and carrying placards demanding that the rapists should be hanged.
A rash of sexual offences, including the rape of a 22-year-old woman in a car while she was with her friend and that of a 15-year-old nun at a seminary in Bangalore had led to public anger and rising concerns over safety of women in the city.
Facing public heat, police issued tough guidelines to schools for safety of children and government has tightened the Goondas Act to bring sexual offenders under its ambit.