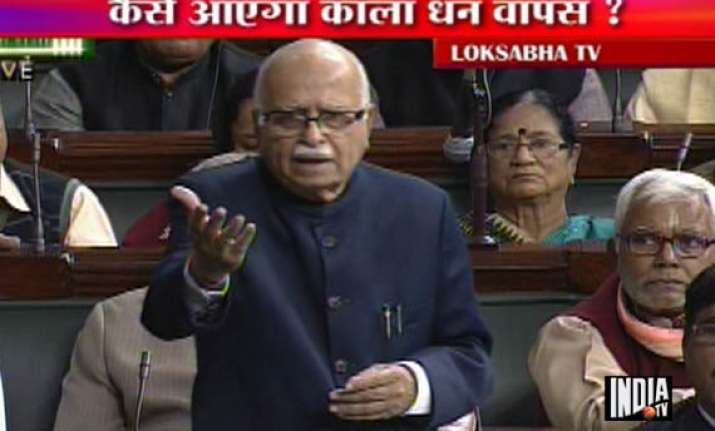 New Delhi, Dec 14: The issue of black money dominated in Lok Sabha today with the Opposition asking the government to bring back an estimated Rs 25 lakh crore stashed away illegally in foreign banks and reveal identity of depositors.

Moving an adjournment motion on the issue, the first in the current Lok Sabha, BJP veteran L K Advani also wanted a White Paper on the magnitude of the black money menace and steps taken by the government to tackle it.

"Tell the world that we are willing to place all the cards on the table. We have nothing to hide," Advani told Prime Minister Manmohan Singh and Finance Minister Pranab Mukherjee who were present in the House.

"Reveal the names you have. It will be a humiliation if we don't get to know them from our Prime Minister or our Finance Minister and come to know from the Wikileaks as (its owner) Julius Assange has said he has the names and would reveal them in 2012," Advani said.

The Chairman of the BJP Parliamentary Party said his party agreed with the estimate of an international think-tank—Global Financial Integrity—that Rs 25 lakh crore have been illegally stashed away abroad by Indians.

The adjournment motion was on the situation arising out of money deposited illegally in foreign banks and action being taken against the guilty persons. Following an agreement between the government and the BJP, the motion did not speak of "government failure".

The BJP leader, however, insisted that the admission of the motion was itself reflective of government's failure on the issue "no matter even if the wording of the motion has undergone a change. Adjournment motion is a failure of the government and your (Lok Sabha Speaker Meira Kumar) acceptance only testifies my view that it the government's failure".