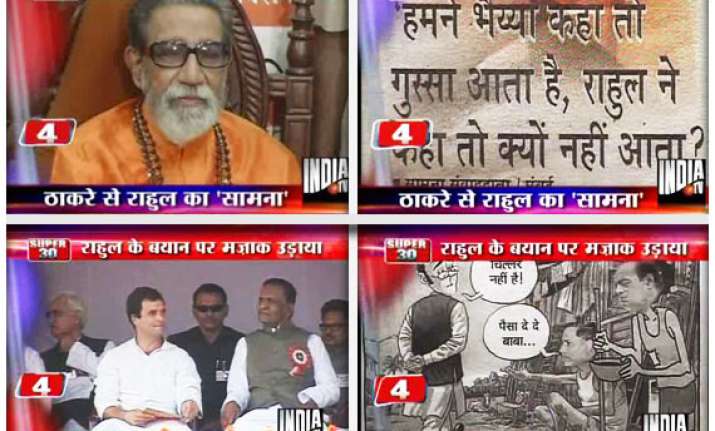 Mumbai, Nov 16: Shiv Sena chief Bal Thackeray has lashed out at Congress general secretary Rahul Gandhi for his comments on migrants from Uttar Pradesh, saying though the migrant population has "destroyed" Mumbai, his party never called them beggars.

"The huge influx of UP migrants in Mumbai and the rest of Maharashtra has virtually paralysed the state and the migrants have destroyed the city. But we have never called them beggars. Hunger has no caste or region," Thackeray said in today's editorial of his party mouthpiece "Saamana". 

Noting that migrant labourers from UP were there in Delhi and other states as well, the Sena patriarch said, "but Rahul mentioned only about Maharashtra and Punjab where the people are self-respecting and have fighting spirit. These states have never surrendered themselves to the Nehru Gandhi family."

Accusing Mayawati government of being corrupt and insensitive to the poor, Gandhi had told a public meeting at Phulpur on Monday that "people of Uttar Pradesh are appreciated for their hard work, wherever they go in search of job....How long will you beg in Maharashtra (for work)? How long will you work as labourer in Punjab?...."

While targeting the Congress leader for his remark, Thackeray asked the migrant population to stay "within limits".

"You have come to earn a living so learn to stay within your limits," Thackeray said, adding north Indians and people from other states were not enemies and Shiv Sena respected people from every state.

"But this does not mean that we will allow the control of Marathi people in Mumbai to loosen so that migrants can behave as they want," he said. 

He said though every citizen had the right to live and work freely anywhere in the country, the migrants were not free to cause trouble to the locals.

Thackeray said he had been saying all these years that migrants from UP and Bihar should stay back in their own states and develop it.