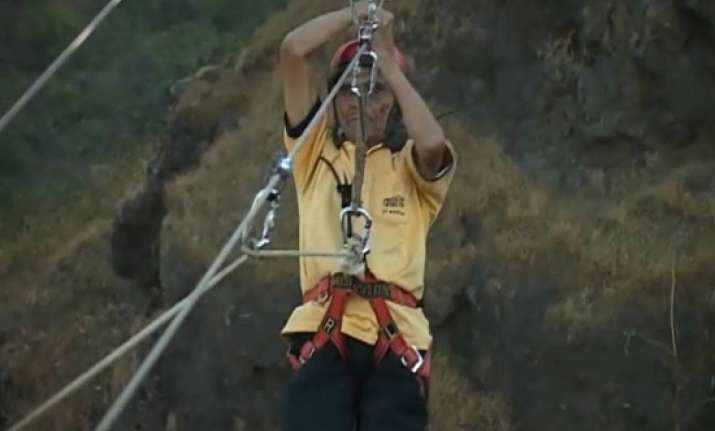 Pune Feb 21 : Narayan Krishna Mahajan, at age 91, is a real Khatron Ka Khilaadi. On Sunday evening at Lonavala near Pune, Mahajan  made a 150-metre wide valley crossing on a ropeway to enter the  Lima Book of Records as the oldest man to perform this act, reports India TV correspondent Ajay Kamble.
Says Mahajan: "Most of the people of the younger generation spend their time before computers playing video games, and have hardly any time to perform trekking or other challenging acts". 
Mahajan crossed the 150-metre wide valley, which was  more than 800 feet deep. The act was performed at a height of 3,500 feet.  
Using the rock climbing technique, Mahajan caught hold of the rope and reached the other side within 5 minutes.  
Kitty Hawk Foundation, which organized this event, claimed that Mahajan's name will be included in the Limca Book of Records. 
A retired school principal, Mahajan is presently the director of Nagarwala Education Institute. He has been trekking for the last 40 years.  He keeps a constant watch on his fitness regimen and goes to the Himalayas for trekking at least once a year.  
"Age doesn't matter at all. Your fitness gives you the will power to do whatever your want", says the 91-year-old warhorse.