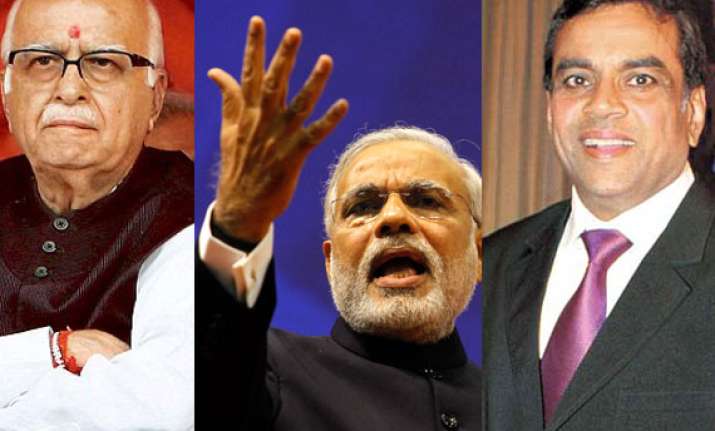 Ahmadabad:  Out of 73 crorepati candidates who had contested either on their respective party's ticket or as independent in the Lok Sabha polls at the 26 seats of Gujarat, 21 BJP candidates have emerged victorious.
80.76 per cent candidates, who are elected as the Member of Parliament on 21 seats have the assets of more than one crore to around 80 crores.
The crorepati candidates who have registered victory in the 16th Lok Sabha polls include big names like country's 'to be prime minister' Narendra Modi, deputy PM and veteran leader LK Advani and bollywood actor Paresh Rawal.
Other millionaire nominees of Modi led party who won the polls include C R Patil, Poonam Maadam, K C Patel, Vitthal Radadiya, Ramsinh Rathwa, Mohan Kundariya, Naran Kacchadia, Kirit Solanki and Dipsinh Rathod.
Jaswantsinh Bhabhor, Darshana Jardosh, Prabhu Vasava, Hari Chaudhary, Leeladhar Waghela, Jayshree Patel, Devaji Fatehpura and Prabhatsinh Chuhan are also in the list.
Bollywood actor and BJP's victorious candidate from Ahmedabad (east) Paresh Rawal tops the list with the total property of Rs 79.52 crore including Rs 56.05 as movable and Rs 23.46 crore as immovable assets.
Another candidate of BJP from Navsari Lok Sabha seat C R Patil has total assets worth Rs 74.47 crore, defeated Congress candidate Maqsood Mirza with the margin of more than 5.58 lakh votes.
In Saurahstra region, BJP's woman candidate from Jamnagar Lok Sabha seat Poonam Maadam, who has defeated her uncle Vikram Madam with more than 1.75 lakh votes, owns total assets to the tune of 17.43 crore.
BJP's candidate from Valsad Lok Sabha seat K C Patel, who won against two time MP Kishan Patel of Congress with the margin of 2.08 lakh votes, does have the total assets worth of Rs 13.11 crore to his and family's name.
Dilip Patel, who has defeated former Union Minister Bharatsinh Solanki from Anand Lok Sabha seat, owns assets of Rs 7,59,98,610.
Patel is followed by veteren leader L K Adavani, who won his sixth term from Gandhinagar Lok Sabha seat, has total property of Rs 7,59,15,276 on his and family members' name.
BJP's strongman from Porbandar Lok Sabha seat Vitthal Radadiya has total assets of Rs 7.30 crore. Radadia had defeated NCP's Kandhal Jadeja with more than 2.67 votes.
In Chhota Udaipur seat, BJP's Ramsing Rathwa who won against former Railway Mos Naran Rathwa, has the total assets of Rs 3.97 crore.
Mohan Kundaria who clinched Rajkot Lok Sabha seat from Congress Kunwarji Bavaliya owns the assets of Rs 3.95 crore.