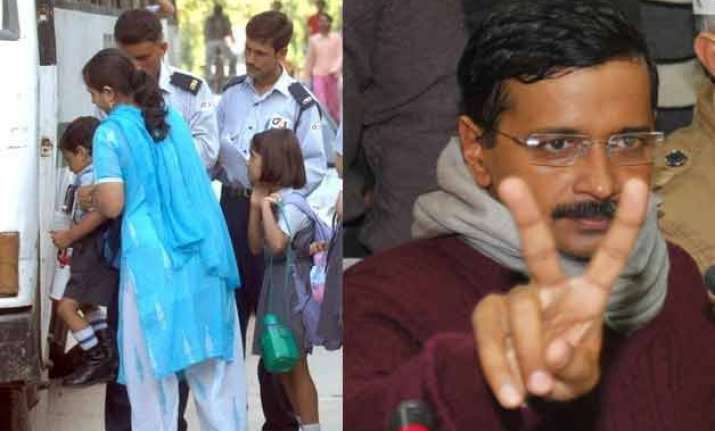 New Delhi: Delhi Chief Minister Arvind Kejriwal's audacious move to scrap management and all other quotas except for the Economically Weaker Sections in private schools for entry-level students may have some far-reaching consequences.
Kejriwal described the criteria laid down by Delhi's private schools for admissions to nursery as "shocking, arbitrary and discriminatory".
Speaking of the Cabinet's decision to scrap the quotas, Kejriwal said the move will make 75 per cent of the total seats (except 25 per cent for the EWS), available to all admission seekers.
"What is management quota? Under it, you get admission if someone is recommended by a chief minister, education minister, judge, police commissioner, SHOs or by an income tax official. Either it is recommendations or seats are sold.
"Management quota is the biggest scandal in the country which the Delhi government is scrapping. 75 per cent admissions in the private schools will be under open category.
Other than EWS category, there will be no other quota," Kejriwal told a press conference.
Kejriwal's methods may seem a little brash but his policy decisions have the craftiness to gauze public mood.
By putting an end to discriminatory criteria like education of parents, management quota, oral test, permanent residency, mandatory transport fees, father's status, gender and age of child, the government has taken a major reform initiative to ensure equal opportunity for all school-going children.
The Delhi government also scrapped some of arbitrary and even nonsensical conditions for admission in private schools.
Here, we have compiled a list of 10 such criteria laid down by schools for admissions that make us wonder how they existed in the first place.
1) Vegetarianism: How could the eating habits of parents or a child for that matter be a criterion for admission at any level of education?
2) Joint family: Joint or nuclear family, schools are not meant to discriminate the child on the basis of his family or origins.
3) School transport fee: There are many private schools in the capital that forcefully charge transport fees irrespective of the need of parents leading to extra financial burden on them.
4) Both parents are working: Why should a child be overlooked if his parent is not working?  Equal opportunities need to be given to non-working, single parent /both working parents.
5) Non-alcoholic/ non smoking : Why should a child be held responsible for his/her parents' habits. The child cannot be punished for any particular habit of parents.
6) Photograph: Assigning points to children for their looks is discriminatory and totally irrelevant.
7) Track record of parents: Preferring children of parents with proven track records over others violates equal rights of children.
8) Regularity in payment of fees: How can regularity in payment of fees be tracked at nursery level as the child is just starting his education?
 9) Adopted Child : How does it matter to a school whether a child seeking education is adopted or biological?
10)  Parents' reason for approaching school :  What else could be the reason for parents to approach a particular school except for ensuring better education for their children?
Here is the notification released by Delhi government.