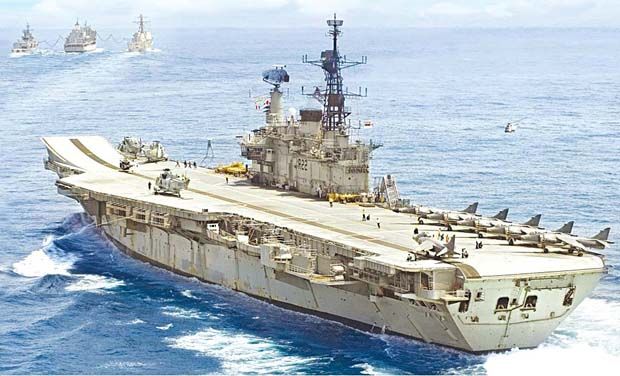 The world's oldest aircraft carrier in active service -INS Viraat- will retire on March 6 with a ceremonial send-off in Mumbai.
According to Guinness World Records, INS Viraat is the world's oldest serving warship. 
The decommissioning ceremony of INS Viraat  will be attended by Defence Minister Manohar Parrikar as well.
The gala event will see the lowering and wrap-up of the naval flag installed on the warship at sunset, marking an end to a long sea odyssey lasting 55 years, including 30 years in the Indian Navy.
A decision on the warship's future has not been taken yet, the sources said. Talks are on with the Andhra Pradesh government which has expressed interest in taking in the ship.
Referred to as the 'Grand Old Lady' in the naval community, Viraat was completed and commissioned in 1959 in the Royal Navy of the United Kingdom as HMS Hermes.
It was decommissioned in 1984 and subsequently commissioned in the Indian Navy on May 12, 1987.
Aircraft like Sea Harriers, White Tigers, Seaking 42B, Seaking 42C and Chetak helicopters have been operated from the warship.
The Sea Harrier fleet was recently decommissioned in Goa in May 2016.
Under the Indian Navy, aircraft have clocked more than 22,034 hours of flying from INS Viraat's decks.
The ship spent nearly 2,250 days at sea, sailing 5,88,288 nautical miles, thereby implying that Viraat has been at sea for over six years and sailed around the globe about 27 times.
The warship played a major role in Operation Jupiter in 1989, a mission of the Indian Peace Keeping Force operations in Sri Lanka and Operation Vijay in 1999 during the Kargil War.
As HMS Hermes, it was the flagship of the Royal Navy during the Falklands campaign in 1982.
The last operational deployment of the ship was for participation in the International Fleet Review (IFR-2016) at Visakhapatnam in Andhra Pradesh.
(With IANS inputs)