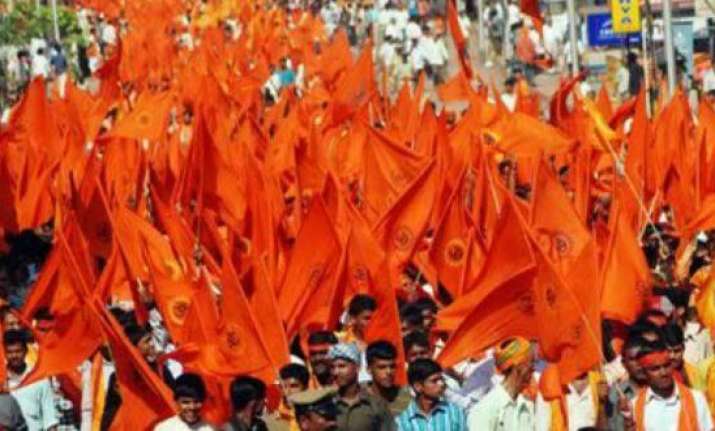 The Vishwa Hindu Parishad (VHP) on Thursday threatened that it will not allow the construction of Babri Masjid anywhere in India.
The VHP's threat came days after the Supreme Court said that the Ram Janmabhoomi-Babri Masjid dispute should  be amicably resolved through out-of-court settlement.  
"We can sort out the matter outside court but the other side will not agree for the same. We cannot allow the construction of any Babri masjid. All we can allow is the construction of a mosque but outside the 84-kosi parikrama of Ayodhata," VHP state media spokesperson Sheelendra Chauhan told Times of India.
He also added that with BJP governments both at the centre as well as in Uttar Pradesh, it was time to bring a bill in Parliament paving the way for the construction of Ram temple in Ayodhya.
"Now that we have a Hindu government at the centre as well as in the state, it is time that just like a bill in Parliament paved the way for the Somnath temple in Gujarat, the same should be is done for Ram mandir too," Sheelendra Chauhan added.
The Bajrang Dal, the youth wing of VHP, has also said that the mosque should be made outside Ayodhya without being named on Babur who was an invader.
"We will not let Babri masjid come up anywhere in India. Babur was no Muslim god that they want Babur's mosque to be constructed in this country. He had looted India and deliberately converted people to Islam, so we cannot let any mosque be constructed under his name," Balraj Dungar, UP state convenor of Bajrang Dal told Times of India.
" We are not against Muslims; they can construct a mosque anywhere outside the 84-kosi parikrama of Ayodhaya but no mosque will be constructed in the name of Babur," he added.
Meanwhile, the Vishwa Hindu Parishad (VHP) on Thursday began the 'Ramotsava Sankalp Sabhas' across the country with an aim to spread awareness among Hindus and unite them for the cause of Ram mandir in Ayodhaya. These sabhas will continue till April 11.