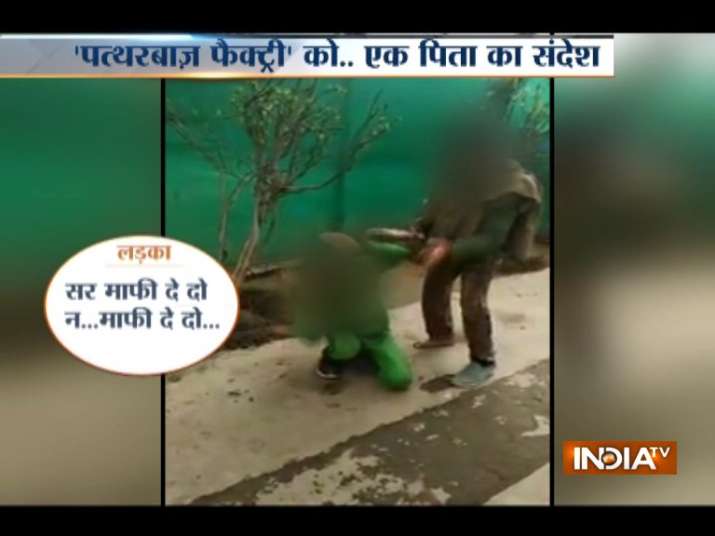 Pakistan-backed Kashmiri separatists have been portraying stone-pelting in the valley as a "symbol of resistance" for years.
However, a video has emerged that depicts the frustration of the Kashmiri parents who are helplessly watching their sons being misled into joining the ranks of stone-pelters.
In a 30-second video from Jammu and Kashmir, an angry man can be seen beating his son with a slipper. The reason was that  his son, instead of going to school, had joined the ranks of miscreants for pelting stones on security forces. 
The local police had detained the kid red-handed when he was throwing stones at the security personnel.
The child revealed his father's name and address to the police.
After that, the police called his father and asked him to make his son understand that what he was doing was wrong. On knowing about his son's deed, the man started beating him with his slipper, while the kid pleaded guilty and sought apology, saying he will not repeat it again. 
Though it is not clear where and when the video was shot in the Valley, it is clear that the parents in Jammu and Kashmir do not want their children to become stone-pelters. 
The security forces, on their end, also do not get tough on stone pelters. Children who are caught pelting stones for the first time are handed over to their parents, who are asked to make them understand what is right and what is wrong.
To encourage the youth of the Valley, the Army, with the help of several NGOs, has opened Army Goodwill Schools across the state. 
Army Chief General Bipin Rawat on Friday said that children in these schools should get the right kind of education, and that their education standards should keep improving. 
Watch video: Kashmiri father beats son for pelting stones on security forces