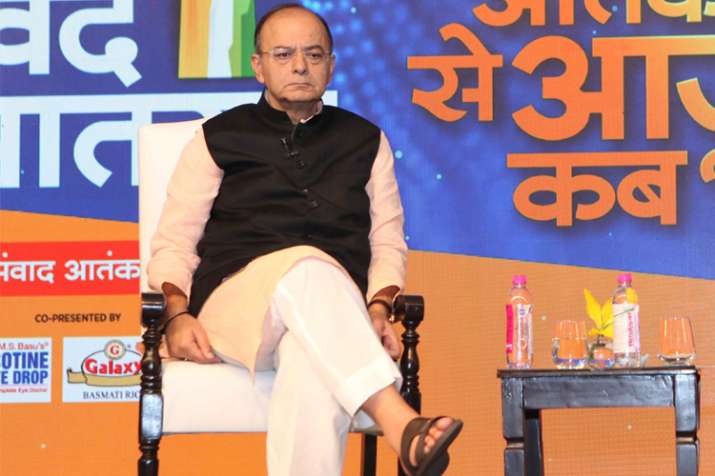 Union Defence Minister Arun Jaitley on Sunday said that demonetisation has succeeded in squeezing the funding of terrorists, leaving them cash-strapped. 
Speaking at India TV mega conclave – Vande Mataram, Jaitley added that the note ban, announced by the Centre on November 8 last year, has also resulted in a sharp dip in the incidents of stone pelting in the Kashmir Valley. 
"Demonetisation has squeezed the funding of terrorists. Incidents of stone-pelting have been dealt a blow," said Arun Jaitley. 
#Demonetisation has dealt a blow to #terror funding, says @arunjaitley #VandeMataramIndiaTV pic.twitter.com/hHoc7D53Fm

— India TV (@indiatvnews) August 13, 2017
The Union Defence Minister also said that "demonetisation impact shows in fight against terrorism", and that the move has made funding to terrorism "all the more difficult". 
Strategists and security experts believe that Narendra Modi government's move to demonetise Rs 500 and Rs 1,000 notes has dealt a deadly blow to those who are involved in terror funding. 
In Pics: Vande Mataram India TV: Recent Incidents Have Shown That Our Forces Dominate The Borders, Says Arun Jaitley
As per the data provided by NCRB, the denomination-wise fake Indian currency notes seized in J & K after demonetisation i.e. from November 9, 2016 to July 14, 2017, count up to Rs 2.60 lakh. 
On the other hand, over the last few months, particularly since demonetisation, there has been a significant spike in cases of bank and ATM robberies. 
Short of money to buy weapons and pay their over-ground workers, the Hizbul and Lashkar terrorists are striking out at banks, which are also symbols of establishment.