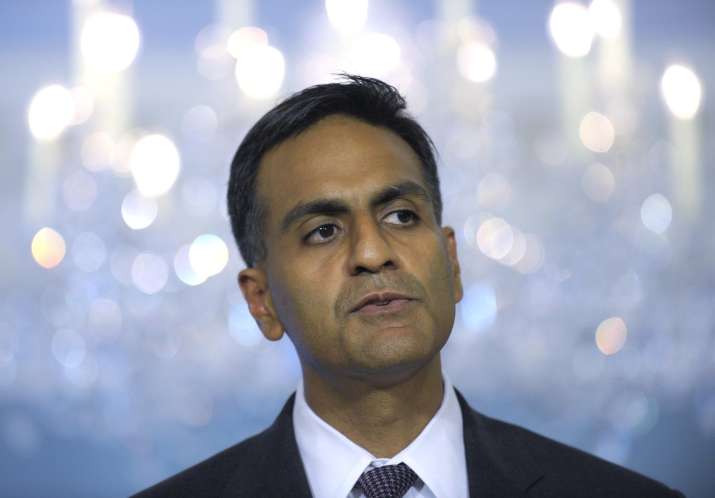 Seeking stronger ties with India, United States Ambassador Richard Verma on Tuesday said both the countries can jointly make a difference in the lives of ordinary people.
"Our work together is improving the lives of ordinary people everywhere," he said while delivering a talk on 'US-India Relations' with a focus on education, at the Jamia Millia Islamia university in New Delhi.
Mr Verma said the two countries can also help overcome the shared challenges faced by their respective citizens and the people around the world.
He said the 21st century is increasingly defined by a new security paradigm, one that includes terrorism and asymmetrical warfare, cyber threats, environmental degradation, climate change, pandemic diseases, resource scarcity and other non-conventional challenges.
"Against this complicated global landscape, like-minded partners must come together and leverage all the elements of our national powers in order to overcome these challenges," he said.

The US Ambassador said strains to the international order, compounded by globalisation and economic inequality, are also bringing to the fore voices who seek to exploit our fears and build barriers to cooperation.
"We see this in many parts of the world, with growing pockets of intolerance and anti-immigrant sentiments. This includes instances of unacceptable rhetoric against the Muslims, including in the United States, and particularly during this Presidential campaign season," Mr Verma added.
About the US-India education linkages, Mr Verma said the number of Indian students studying in the United States reached 132,000, the highest number ever.
"We would like these numbers to grow even higher. We have Education USA advisory centres in seven cities across India, which are assisting students in accessing higher education opportunities through virtual and in-person outreach sessions and one-to-one  consultations," he added.
PTI