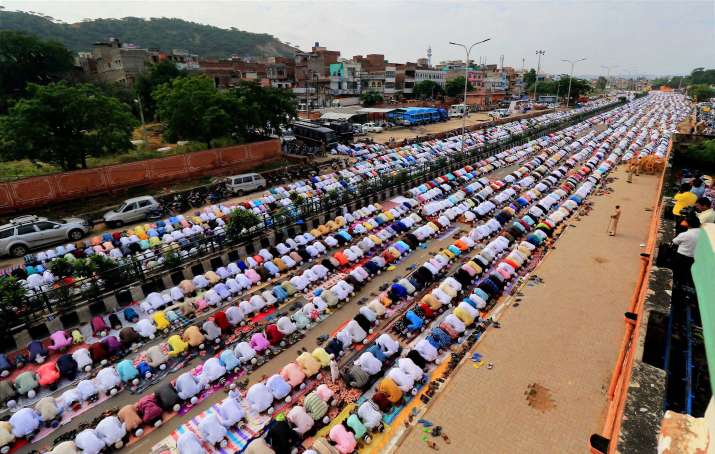 The Uttar Pradesh Police has reportedly issued an order banning namaz at a public park in Noida's Sector-58. According the reports, police banned the prayers or any religious activities in the park following a complaint. 
Interestingly, the police order is addressed to offices and firms in the area, warning them of strict action if their employees were caught offering prayers at the park. It said that companies will be held liable if their employees are found breaching the order. 
The companies in the area had earlier sought district magistrate's permission for their employees to offer Friday prayers at the open grounds, but had to come back empty handed. The police notice was issued after a complaint was filed that the employees of the said companies were caught offering prayers despite denial of permission by the authorities. 
The police have clarified that the order is not for a specific religion, but any religious activity without prior permission was banned in Sector-58 park. 
As per reports, companies in Noida's Sector 58, which is an IT and services hub, seek to meet senior Noida cops in order to get clarity on the matter. Defending the directive, the Noida Police said it was issued amid concerns that communal harmony could be disturbed, especially ahead of the 2019 Lok Sabha elections.
As per the notice issued by Police: "We want to inform you that there is no permission from the administration to conduct any kind of religious activity including Namaz offered on Friday in the Authority park in Sector 58. It has been often seen that the Muslim workers of your company assemble in the park to offer Namaz and I, the SHO, have told the group to not hold prayers in the park. Also, their plea to the city magistrate has not received any permission to do so."
"Thus, it is expected from you that you at your level inform your Muslim employees to not come to the park to offer Namaz. If employees of your company come to the park, it will be assumed that you have not informed your employees and your company will be held liable." 
Watch  full story on India TV's special show Aaj ki Baat with Rajat Sharma: