Follow us on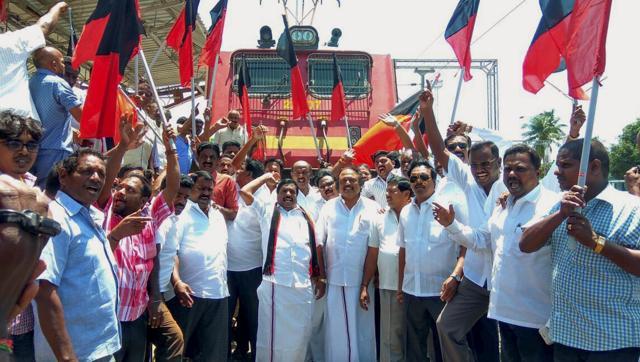 Opposition parties including the DMK on Monday joined the 48-hour state-wide 'rail roko' protest announced by a farmer's federation over the Cauvery water sharing issue. The farmers are demanding the constitution of Cauvery Management Board.
DMK Treasurer and Opposition Leader in Tamil Nadu Assembly, MK Stalin, was among those who participated in the protests held in different parts of the state including Chennai and the Cauvery delta districts.
Stalin led a procession at Perambur here even as scores of political workers belonging to DMK, the Left parties and MDMK among others staged a rail roko at Thanjavur and Cuddalore, and were detained. 
A farmers' federation had called for the two-day rail blockade starting today, urging the Centre to immediately constitute the CMB. 
The protests come days after a high-level technical team, set up by the Supreme Court, completed its inspection of Cauvery basin region in Tamil Nadu to assess the situation in the state. 
The team, which also inspected the Cauvery basin in Karnataka, is set to submit its report in the apex court today. 
The apex court had set up the team while hearing a petition by Tamil Nadu government seeking release of Cauvery water by Karnataka.
Earlier this moth, the Karnataka government has finally agreed to release 6000 cusecs of water daily to Tamil Nadu till October 6 in accordance with the Supreme Court order.
On September 23, the Karnataka Assembly had unanimously resolved to reserve Cauvery river water for drinking purpose only in view of acute shortage of water in the river.
The Supreme Court had asked Karnataka government on September 30 to release 6,000 cusecs of Cauvery water to Tamil Nadu from October 1 till October 6.
In his reply in the Assembly, Chief Minister Siddaramaiah gave strong indications of complying with the order of the Supreme Court to release water to Tamil Nadu, while assuring the people that government would make all efforts to meet drinking water needs and to save standing crops.
Siddaramaiah said the state had never defied the court orders and noted that "we are in a federal set up".
Farmers in the Cauvery basin had been demanding release of water as otherwise the crops would wither, he said, adding, once it is released for them, some quantum would flow naturally to Tamil Nadu, where it would be recorded in the Biligundlu gauging station.