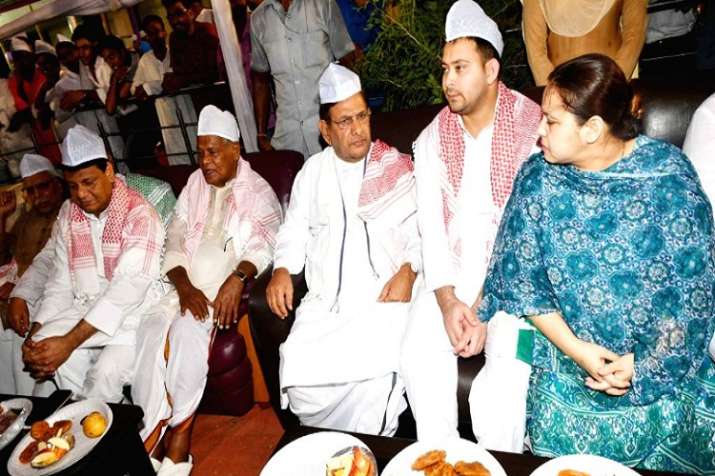 RJD leader and the younger son of Former Bihar Chief Minister and RJD supremo Lalu Prasad Yadav hosted an Iftar party at his residence in Patna on Wednesday.
Speaking on the occasion, Tejashwi Yadav - who is the RJD heir apparent - regretted his absence at the Iftaar hosted by Congress president Rahul Gandhi in Delhi and said "our programme had been decided long ago so I could not be present there. But our Rajya Sabha member Manoj Jha is representing our party and I hope that the Iftaar at Delhi sends out a strong message in favour of opposition unity". 
Tejashwi's elder brother Tej Pratap Yadav, MLA, and eldest sister Misa Bharti were also present at the Iftaar,seeking to put to rest recent speculations about sibling rivalry that was triggered by a tweet from Tej Pratap. 
"Tej Pratap never said that he had a problem with his brother or sister. It was a creation of the media. Today all the mischief-mongers have got a reply seeing all of us together", Misa Bharti told reporters. 
Meanwhile, the JD(U) leaders hosted a separate Iftar party which was attended by RJD leaders including Bihar CM Nitish Kumar, Deputy CM Sushil Kumar, Lok Janshakti Party Chief Ram Vilas Paswan and state JD(U) chief Narayan Singh.
Meanwhile, disgruntled BJP leader Shatrugnan leader chose to attend the Iftar party hosted by the RJD over JD(U). 
"It is an auspicious and happy occasion. Iftar parties are a part of our composite culture. Lalu Prasad (RJD supremo) is my dear friend. I am delighted to be among my family friends," Sinha told reporters. 
Asked why he skipped the Iftaar hosted by the JD(U), the Patna Sahib MP claimed he did not have knowledge of the Haj House function. 
Asked whether his presence at a function hosted by an opposition party leader while skipping the one hosted by an ally of his party could lead to bitterness, he asserted "Iftar only sweetens relationships". When pressed further by journalists, he responded with his trademark - Khamosh! 
WATCH FULL VIDEO: