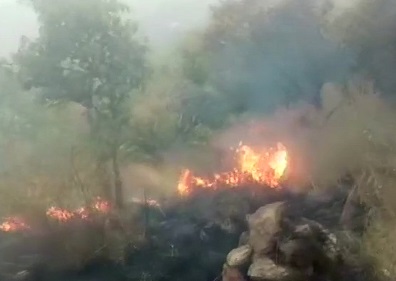 One student was killed in a forest fire that broke out in Theni district of Tamil Nadu on Sunday. The authorities, however, managed to rescue 15 students. Defence Minister Nirmala Sitharaman said that the IAF has also been pressed into service.
A massive search operation which was launched by the authorities on Sunday, remained hampered in the night due to poor light.
Belonging to Erode and Coimbatore, the students were trekking in the Kurangani Hills when they got caught in the fire.
Ambulances and fire tenders were rushed to the spot. Police and workers in a nearby tea estate are also helping in the rescue operation.
An official said since the area does not have a good mobile network, full information is not available. Senior fire service officials have gone there.
The Fire Department got information about the incident around 3 p.m., said another fire official.
"One of the trekking team members called 108 Ambulance Service and alerted about their situation. The ambulance service then called us," the official said.
Fire service personnel reached there armed with ropes, searchlights and other equipment to climb the hills. The official said the vehicles can ply only till Kurangani Hills.
Up on the hills, there is a tourist spot called 'Otha Maram' (single tree).
"That has become a tourist spot now. From Bodinayakanur, Kurangani Hills is around 12 km. From there one has to trek up to Otha Maram spot," the fire official added.
He said the trekking team could have climbed from the Kerala side also.
The official said it is not known how they reached the spot and if it was with or without the knowledge of the Forest Department.
In her latest tweet, Sitharaman said she had spoken to the Theni District Collector and around 10-15 students were coming down to the foothills.
An Indian Air Force (IAF) helicopter from Sulur base has gone to the spot. The helicopter will carry out a survey on the spread of the fire and its intensity.
Early on Monday, an IAF helicopter will fly to the spot and carry out a rescue mission, if necessary.
Sitharaman said she was responding to a request from Tamil Nadu Chief Minister K. Palaniswami.
(With IANS inputs)
WATCH VIDEO: