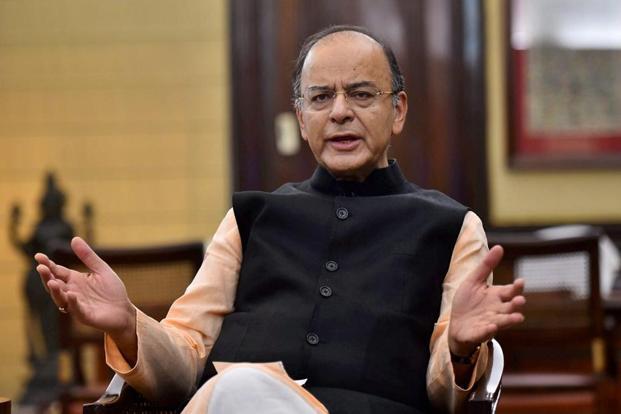 Union Finance Minister Arun Jaitley on Wednesday said that the Central government stands by its promise of 90% central fund to all schemes of Andhra Pradesh.
"The Centre stands committed to it. The state has to tell us what manner it wants it in. At no stage has the Centre said that we will not give it," said finance minister Jaitley during a press meet in New Delhi on the issue of row over special status to Andhra Pradesh.
Jaitley said: "Andhra Pradesh was unwilling and Telangana wanted the division. Andhra was suffering in terms of resources. Therefore some help had to be given to Andhra Pradesh. So one of the promises was, Andhra should be given special category status".
Jaitley said that before the division of Andhra Pradesh and Telangana, one of the promises was that Andhra should be given special status. He said that the provisions for revenue deficit in case of Andhra Pradesh as per Finance Commission has already been made.
"At that time, special category state concept did exist. But, according to 14th Finance Commission there is no special category status now to be given," the finance minister added.
The finance minister also added that the Central government is willing to satisfy every condition by Andhra Pradesh. Only variation is that after Finance Commission report instead of formally calling it a special category state, we are calling it a special package, which gives same monetary benefits that a special category state gives you.
"Special category status means that you get a 90-10 advantage, not 60-40," said Jaitley while speaking on Special Category Status to Andhra Pradesh.
"Political issues cannot increase quantum of money because Centre does not have free floating funds. Every state in India has a right to same Central funds in the same manner. I have been sympathetic to Andhra Pradesh because I know it suffered due to bifurcation," said Jaitley.
"Revenue deficit is for only 10 months period. Tax concessions were already given in the first two years," he added.
Jaitley said while talking to media persons: "Sentiment does not decide quantum of funds. Centre has repeatedly said that we are ready to give it."
"What is the implication of special status? The special status used to be originally granted to states in the North-East because they have their own resources that were inadequate," Jaitley said.
He also said that the Centre has decided to create Special Purpose Vehicle (SPV) in Andhra Pradesh, which deals with development of the state. The NABARD funds will go to that corporation.
The demand was raised after erstwhile Andhra Pradesh was bifurcated and claims were made that it caused a huge revenue deficit.
The Centre announced a "special package" in 2016 for Andhra, but the TDP government claimed no funds have been released under the package. 
This has turned the focus back on special category status for AP.
WATCH FULL VIDEO: