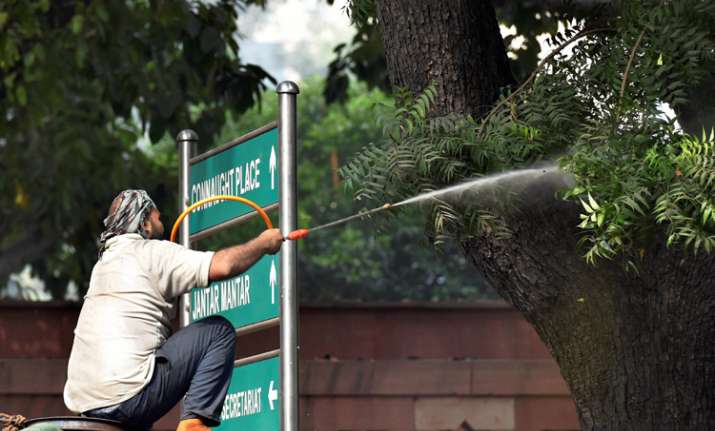 Smoggy conditions continued to prevail in the national capital on Wednesday morning, leading to cancellation of seven trains and rescheduling of nine. According to Railways, 26 trains have been delayed, nine rescheduled and seven cancelled. 
The cancelled trains were the New Delhi-Alipurdwar Mahananda Express, New Delhi-Jalandhar Express, New Delhi-Howrah Poorva Express, Delhi-Jammu Tawi Puja Express, New Delhi-Rohtak Intercity, Rohtak-New Delhi Intercity and Delhi-Ferozpur Express.
According to the Delhi International Airport Limited (DIAL), no flights were delayed or cancelled.
An official of the MeT department said that the minimum temperature settled at 13.2 degree Celsius. 
The official said that the humidity level recorded at 8.30 am was 91 per cent. 
The visibility was recorded at 1,500 meters at 5.30 am, which dropped to 1,000 meters at 8.30 am in the national capital. 
"The sky will remain partly cloudy during the day with mist in the morning," an India Meteorological Department official said. 
Delhi has been experiencing dense smog for about a week, forcing authorities to enforce emergency measures such as banning construction activities and brick kilns in the National Capital Region. 
Air quality in the city remained 'very poor' on Tuesday despite showing a marked improvement, prompting the EPCA to continue with the emergency measures such as ban on trucks. 
Tuesday's maximum temperature settled at 27.7 degrees Celsius, a notch below the season's average, while the minimum temperature was 14.6 degrees Celsius, a notch above the season's average.
Meanwhile, Delhi Chief Minister Arvind Kejriwal will today meet his Haryana counterpart Manohar Lal Khattar and discuss the issue of stubble burning and air pollution in the national capital. 
(With agencies)